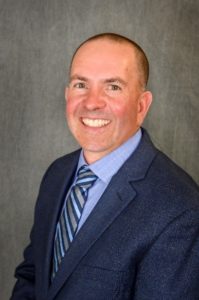 Jason Ochs
Age as of March 1, 2022:       47
Residence Location:   Syracuse, KS
Place of Operation:    Syracuse, KS
Business Experience: I am a managing member of Plum Creek Farms GP, a dryland wheat, grain sorghum, and corn operation. We also custom farm, including cutting, spraying, planting, tillage, and CRP maintenance, the sale of GPS systems and seed, consulting customers on best options for their operation, and inventory management. Managing the business includes procurement of inputs, marketing of crops, expansion decisions, capital expenditures, and leading employees to carry out day to day activities.
Education: Associates Degree, General Studies
Current Boards: American AgCredit, Plum Creek Farms GP, agriculture; Kansas Wheat Commission, research, and market development; Hamilton County Historical Society; Kansas Fireman's Relief, Hamilton County- volunteer firefighter benefits.
Strategic & Visionary Thinking: Strategic and visionary thinking means looking to the future and planning for what is to come, especially in this fast paced and ever-changing world. As a farmer, I am always looking to use the latest business and farming practices. I believe it is important to always continue learning about anything that can affect my business. The same is true of American AgCredit. We must continue looking into the future and exploring the best possibilities for our customers.
Corporate Governance: I am currently serving on the governance committee of American AgCredit (AAC). I was honored to serve as chairman of Farm Credit of Southwest Kansas, prior to merging with AAC. Serving on the Farm Credit board, for ten years, has given me great experience in corporate governance. I believe policies and procedures are very important to ensure our success.
Financial Expertise: Serving on the American AgCredit board I have gained experience and understanding for the finances of a large business. I served on the compensation committee prior to the governance committee. My personal farm, Plum Creek Farms, has experienced, at a minimum of 20 percent growth annually for the last five years. This growth has helped my financial management skills for balancing income and expenses.
Communication: I believe open communication allows all relationships to be stronger. During my time on the American AgCredit board I have enjoyed visiting with customers, hearing their positive comments or concerns. It is important to always take phone calls from stockholders and to listen to their needs and concerns. Even if those concerns are constructive criticism, I believe that is a must for building a strong business.
Technology: The pace of technology is very fast and needs to be embraced to better serve our customers. Change is hard, at times, but as we each take on more responsibilities it may be necessary. Anytime American AgCredit can improve the lives and productivity of stockholders and employees, we must step up to the challenge. I believe it is vital to learn everything we can about technology and put it to work to meet the needs of customers, boards and employees.
Human Resource Management: The people of American AgCredit are the biggest reason they have grown and been so successful. In any business we must find quality employees, give them the training they need/require and give them reason to stay. Good help is getting more and more difficult to find, especially in rural areas. As with everything we have to focus on the changes happening in today's work force and be willing to adapt.
Risk Management: There is risk involved in everything we do. We must look at the risk to reward ratio and decide what risks we are willing to take. American AgCredit lowers the risk with multiple commodity diversifications and a variety of different regions. As we move forward there are always new and emerging risks for us to navigate.
Leadership: I have had the privilege to serve in several leadership positions. I served first in the US Army reaching the rank of Staff Sergeant. I worked for a grain cooperative, Skyland Grain, where I was a branch manager. I have served on several boards and held leadership positions including Kansas Wheat Commission Vice Chair, Hamilton County Historical Society Chairman, Hamilton County Fireman's Relief Organization Chairman, and Worshipful Master Syracuse Lodge #309.