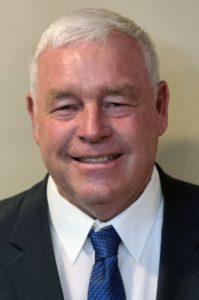 Berry Bortz
Age as of March 1, 2022:       60
Residence Location:   Preston, KS
Place of Operation:    Preston, KS
Business Experience: Besides serving on American Ag Credit's Board, which I consider an incredible business experience, we operate a rather diverse yet integrated farm producing irrigated and dryland corn, wheat, soybeans, alfalfa, sorghum, cotton, and bermuda. We sell registered Black Angus bulls and finish all our home raised calves plus calves we purchase in our feedlot, which consumes most of the forage and a third of the feed grains we produce. We sell cattle through US Premium Beef and have an ownership interest in a cotton gin.
Education: Bachelors – Agronomy, Ag Econ and Animal Science.
Current Boards: I am an owner/partner in Central Kansas Cotton producers and Next Gineration Inc. which gins cotton in south central Kansas. I serve on a Regional Advisory Committee for the Kansas Water Authority which sets state water policy. Our farm operations are conducted by CB Farms Family Partnership and most of our farm real estate is held by BAD Lands LLC the balance is owned individually. I currently serve on the American AgCredit Board of Directors.
Strategic & Visionary Thinking: As the great Gretzky used to say "You have skate where the puck is going to be, not where its at." Our focus on 3 to 5 even 10 years out led us to build grain bins with upgrades 10 years later, led the change from backgrounding cattle to cow calf to finishing at home to integrate a protein system that starts with solar interception by the corn plant and ends with a meat product for the consumer through our ownership in US Premium Beef. The gin is further integration of our cotton production.
Corporate Governance: By far the most extensive Corporate Governance experience I have is from my time spent on the Governance Committee at AAC and all the training sessions that were made available to me. Before that though I was exposed to different types of governance through my involvement with organizations like Farm Bureau, Kansas Livestock Association, and the different business arrangements we have forged to operate our farm and gin under.
Financial Expertise: One of the most useful classes I had in college was Ag Resource Acquisition and Finance. It was designed for kids that were going into Ag finance. But, it was great for me to understand what bankers were looking for and how I would be evaluated for the rest of my life. As I worked on bigger and bigger organizations, I have learned to apply the same basic principles to the financials documents that I see today at AAC which involves Billions of dollars verses the thousands of dollars I started out with on my personal finances. I have always had the ability to recognize when numbers just don't make sense and a sense of duty to ask why.
Communication: I am by no means a literary genius. I do believe in effective communication with a minimum of fluff. I find in todays world less is often more. It seems it is better to tell people what to do and empower them to decide the how too. The resulting innovation can be surprising. This is a huge shift for me, I used to micro manage to the inth degree which led to a lot of unrest with the employs and family.
Technology: I am not even sure what we describe as technology any more. In my opinion technology essentially creates new tools that aren't necessarily common place. An electric arc welder was new technology for my grandfather just as a wheeled tractor was. I consider these as just tools in my arsenal much the same as I look at auto steer and I pads that download the days feeding and planting activities to the home computer automatically. 5 years ago I viewed them as new technology. For me when I graduated college spreadsheets were the newest , latest and greatest. Now its a must have. Bottom line, we have to be early adapters to use the new tools but not so early as to be experimenting with our stockholders funds.
Human Resource Management: Because I have never worked for anyone else, this is an area I have struggled with. I didn't have the perspective of being an employ. Over the years, as our operation grew and the number of employs increased I had to get better at it or we weren't going to be able to continue our growth path. I have read books and observed leaders like Byron Enix to raise my emotional intelligence levels. All three of my kids are great people persons so I lean on them for kind of a reverse mentoring (let the young pups teach the old dog). I also served on the compensation committee where incentivizing good behavior became paramount. To that end we implemented a incentive program based on yields to get our employs to take a sense of ownership in the farm.
Risk Management: We started farming right out of college in 1982 basically on a prayer and a shoestring. A couple of good things came out of those trying times of the 80's. We learned risk management and finance management very quickly or we wouldn't of survived. We learned to be prudent when taking leveraged positions and consider the worst case consequence if we were wrong. As we grew, our lenders gained confidence in us which allowed us to continue to bigger endeavors.
Leadership: One of the hardest jobs we have is to prepare our kids for life without us. But as I reflect back on leadership roles that job probably has given me as much satisfaction as any I have done. I am continually amazed how the kids I had just yesterday in pee wee football, basketball, baseball, and 4H have developed and are having families of their own now. I also served on the booster club to help with kids high school experience. I served on our local Farm Bureau board and 2 state level committees. Served as Regional Advisory Committee chair for the Kansas water authority and still sit on that committee. And I am just completing my first term on American Ag Credit's Board of Directors.