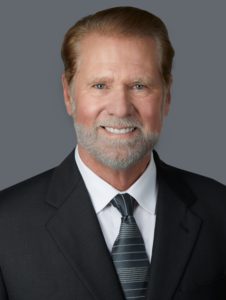 Robert Olson
Age as of March 1, 2021: 64
Residence Location:         Temecula, CA
Place of Operation:           Temecula, CA
Business Experience: I founded Stellent Corporation (NASDAQ:STEL) in 1991, where I was Chairman and CEO. Stellent became a public entity in 1996 which grew from one employee to 650 employees globally. Stellent was sold to Oracle Corporation $440M. I remained Chairman and CEO throughout this exceptional growth period. Most recently, I was Chairman and a current Director of QUMU Corporation, a publicly-held, global software company.
Education: Bachelors with a focus in Marketing and General Business.
Current Boards: Qumu Corporation; Temecula Valley Winegrowers Association; President and Owner, Danza del Sol Winery and Masia de la Vinya Winery.
Strategic & Visionary Thinking: I enjoy developing strategies and building successful teams. A strength is being able to quickly understand different types of business models and in determining requirements for success. I believe in maximizing short-term execution while ensuring progress towards long-term goals, and in quickly adapting to changes in the marketplace. I have a passion for helping and watching companies scale to their potential.
Corporate Governance: I have served as Board Chairman and CEO of a successful public company. I have served on the Audit Committee and Governance Committees as well. I have bought and sold numerous organizations while adhering to SEC guidelines. I have been a past member of the NACD public directors association, and have served as Treasurer and Committee Chair of a non-profit board, Temecula Valley Winery Association.
Financial Expertise: I have been and am currently recognized as a financial expert by the Securities and Exchange Commission, and have been on audit committees while serving on 2 public boards for over 15 years. As mentioned, I am currently the Treasurer of the Temecula Valley Winery Association, managing the finances of that organization. I have had substantial coursework in finance with my business BS degree, as well as Finance coursework at the MBA level.
Communication: I am a strong believer in communication. I believe the lack of communication is one of the biggest problems, if not the biggest, that most organizations face. It starts with everyone in the organization taking responsibility for strong communication, as well as having the appropriate tools in place. My companies have always had pride in our ability to communicate effectively. With the pace of business these days I believe this is essential.
Technology: As mentioned I founded and was Chairman and CEO of Stellent Corp., which was the first internet/web-based content management software provider on the market. I hired and helped build the software development and technical support groups in the company, which scaled very quickly selling to large global organizations. I have been on the board of several technology firms, most recently QUMU Corporation, a cloud-based video conferencing software company also selling to large global organizations. I have a great deal of technology experience.
Human Resource Management: As Chairman and CEO I have built numerous HR organizations over the years, and have been confronted with many HR challenges as the rules for work environments constantly change. One of the most challenging has been through the COVID-19 period, during which we had to put numerous processes in place as well as deal with all the HR issues surrounding this critical period. My companies have always been very diverse, which is a principle that I believe in.
Risk Management: I believe in adequate growth that will bring a strong return to all the stakeholders, while at the same time minimizing risk to the greatest extent possible. We have done a risk assessment and mitigation strategies in all of my companies, which I believe is essential to any business.
Leadership: I have been Chairman and CEO of Stellent, growing from a single employee to 650 employees. This has required strong leadership as well as consistently monitoring our strategic direction. As Chairman of QUMU, the board replaced management and oversaw a change in the direction of the company from a hardware company to a software company which is now providing strategic software to Fortune 2000 organization. I am a strong believer in team building. Most recently I have implemented this at our wineries – I believe it has been very successful. I'm proud of our teams.