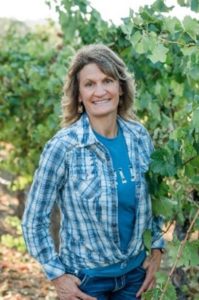 Kristin McMenomey
Age as of March 1, 2022:       51
Residence Location:   Potter Valley, CA
Place of Operation:    Potter Valley, CA
Business Experience: I am the owner and CFO of McMenomey Vineyards since 2004, involved in all aspects of the 200-acre operation. My professional experience consists of working for the County of Mendocino from April 1994 to August 2015. During my tenure with the County of Mendocino, I was the General Services Agency (GSA) Director/Risk Manager for eight years. Before becoming the GSA Director, I served as the Risk Manager for an additional eight years. I am currently employed with Adventist Health Ukiah Valley Hospital as the Residency Administrator since May of 2018.
Education: Bachelors – Liberal Studies
Current Boards: During my 20 years of government service, I served on the following Boards/Committees: CSAC EIA Board of Directors (1999-2015); CSAC EIA Vice President (2015); CSAC EIA Executive Committee (2002-2008, 2010-2015); CSAC EIA Technology Committee (2002-2005); CSAC EIA Legislative Committee (2006-2007); CSAC EIA Primary Workers' Compensation Committee (2000-2015). I currently serve on the American AgCredit Board of Directors.
Strategic & Visionary Thinking: I played a key role in the development and creation of Mendocino County's first and only Family Medicine Residency Program with AHUV. As part of the executive team, this program was created involving many strategic partners along with Community Members and Boards. I had several opportunities to participate in Mendocino County Board of Supervisor strategic planning, mission and vision development workshops. I also led my GSA Department in a strategic planning and mission development workshops.
Corporate Governance: During my tenure with the County of Mendocino as Risk Manager and GSA Director, I was directly involved with the governance of the County. I also had the opportunity, while serving on the CSAC EIA Board of Directors, to be heavily involved with the governance of that organization, especially while I served on the CSAC EIA Executive Committee and while serving as the Vice President.
Financial Expertise: I serve as the fiscal representative of the AHUV Family Medicine Residency Program which includes a budget of over $4,000,000 and management of several grants. While employed with the County of Mendocino, I administered budgets totaling over $21,000,000, including capital financing for facility improvement and application and administration of state and federal grants. While serving on the CSAC EIA Board of Directors, I reviewed countless actuarial reports, underwriting reports, market reports, and other financial statements for the organization.
Communication: I believe in open, honest and transparent communication. This philosophy has served me well in my capacity as AHUV Residency Administrator and while working for the County of Mendocino for 21 years.
Technology: As GSA Director for the County of Mendocino, one of my responsibilities was serving as the County's IT Director. As the IT Director, I focused on the expansion of the County's technology base in order to streamline efficiencies both on a County wide basis and with individual departments. I also served on the CSAC EIA Technology Committee for several years. I believe that organization need to be constantly investing in their technology in order to stay relative and provide efficiencies within their systems.
Human Resource Management: As the AHUV Residency Administrator I have 18 residents that rely on me to assist them in navigating through all aspects of HR as it relates to their positions. I am responsible to ensure that all residents remain in compliance with HR and ACGME requirements. As GSA Director for the County of Mendocino, I had a total of 65 employees in my department. Of those 65 employees, I had five direct manager reports. I was involved in all disciplinary and promotional matters and appeared before the Civil Service Commission on several occasions. I have been involved with employee grievances and provided testimony in several cases.
Risk Management: In my capacity as Residency Administrator I work closely with hospital risk management to ensure compliance of policies and procedures for each resident within the program and each member of faculty. I served as the Risk Manager for the County of Mendocino for 16 years and was directly involved with all aspects of the following Risk Management programs: Workers' Compensation, General Liability, Health Insurance (self-insured plan), Safety and Loss Prevention.
Leadership: I have completed several leadership programs within the AHUV environment including becoming what is called a Change Agent. Basically it is advocacy for change and challenging the current executives to continually improve the system. I participated in the following leadership activities while employed at the County of Mendocino: Leadership Mendocino; UC Davis Leadership Training; High Performance Organization Training; Mendocino County Leadership Academy. I believe in leadership at all levels and empowering individuals to be leaders/CEO's of their environment and those work processes that fall within their area of expertise.