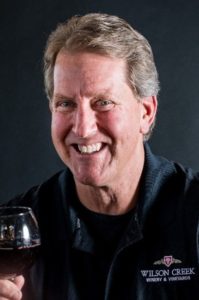 Bill Wilson
Age as of March 1, 2022:       59
Residence Location:   Temecula, CA
Place of Operation:    Temecula, CA
Business Experience: I have been CEO of Wilson Creek Winery since its inception in 2000 and have tripled sales over the past 7 years while maintaining a healthy P&L and Balance sheet. We currently have 264 team members and manage 250 acres of premium wine grapes. We operate a restaurant, event facility and tasting room. Wilson Creek Winery started very small and organically grew to what it is today with blood, sweat, and tears.
Education: Bachelors – Business Management with Econ Minor
Current Boards: I sit on Rancho California Water District BOD. I was the first Chairman to be re-elected by the Board to serve a third term. I am the current Chair of the Finance Committee and oversee $260 mil in financial assets and $4.5 bil in hard assets. I am the COB for Visit Temecula Valley that has a Budget of $2.9mil to market Temecula Valley as a world class wine destination. I have served as President on the TVWGA BOD and I am on the BOD of Wilson Creek Winery.
Strategic & Visionary Thinking: My team calls me the "Imagineer". I have the ability to foresee what a project is going to be, create it from nothing, and will it into existence. It started many years ago and I have used this gift in almost everything I do. Wilson Creek Winery is a shining example of my ability to see into the future and bring it to fruition.
Corporate Governance: We were a small family run business in the year 2000. We grew and expanded beyond a small mom and pop winery. As we grew we installed both a Family Governance and a Corporate Governance. We had to become more professional and install more layers of management as we grew. We have a Family BOD, Winery BOD, and a group of professionals that work hard every day making sure Wilson Creek Winery is here for the next generation to take the reins.
Financial Expertise: In my 20's I was a Series 7 licensed Stock Broker/Financial Planner. I became a Tax Deferred Annuity Expert and worked with other Financial Planners in Southern California. I also parlayed that into working in the Estate Planning field. I also co-created and was a Managing Director in a Mergers & Acquisition Company prior to convincing my entire family to quit their jobs and go into the wine business together. I have always started as Treasurer or in the Finance Committee of the groups i am involved with.
Communication: Communications is where I shine. I love public speaking and communicating with other peers and employees comes very natural. Communication in a large organization is very important. The more layers and personnel a company has, the more important proper communication is.
Technology: I am not a big Techy Guy. Technology scares me in how powerful and necessary it is in everyday life. I can work my way around most any gadget, but I do so with the utmost respect. I tip my hat to the IT Department and what they deal with on a daily basis.
Human Resource Management: Human Resources is the heart beat of any organization. Without good people, failure is imminent. Human Resource professionals have the ability to navigate the many different personalities and corresponding rules and regulations and make it seem effortless. I work very close with our HR Department and trust they have our company and our employees best interest in mind. It is a high wire act played out in real life every day.
Risk Management: Risk Management has to be top of mind of any good leader. With the lawsuits now in the multi-millions, not having your eye on Risk management is negligence and could bankrupt a company. We discuss risk management often and we work close with our Legal Team and Insurance Companies to minimize our exposure to catastrophic events and lawsuits.
Leadership: Leadership has always come natural to me. From a little boy I was the one organizing activities and the leader of the pack. I was always the Team Captain in sports and was the Quarterback that had to be the leader. Leadership is a never ending learning curve. The more you study leadership the more important leadership becomes. Leadership is the secret weapon within any successful organization. My goal is to continue to develop leaders that develop leaders throughout our company.