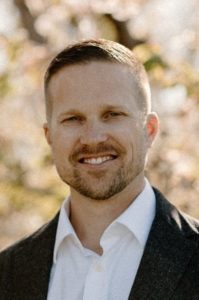 Michael Stonebarger
Age as of March 1, 2022:       34
Residence Location:   Brentwood, CA
Place of Operation:    Brentwood, CA
Business Experience: I grew up in Brentwood CA where I spent summers working for my family farming operation.  Upon graduating from Cal Poly San Luis Obispo in 2010, I returned to co-manage Ghiggeri and Stonebarger Farms, overseeing the production of approximately 1000 acres of sweet corn, 80 acres of green beans, 250 acres of processing tomatoes, and 130 acres of cherries.  In addition, I began employment G&J Marketing in 2011, which consists of managing all harvesting and sales for approximately 2500 acres of sweet corn (~1.2 million boxes) annually grown throughout California.
Education: Bachelors – Cal Poly San Luis Obispo / Wine and Viticulture / Ag Business
Current Boards: None at this time.
Strategic & Visionary Thinking: It is my responsibility to strategically plan the plantings of our crops to correspond with harvest dates that will match the forecasted sales of our customers. My role also requires monitoring market information and absorbing customer feed back to maintain our relationships while achieving growth. I find it imperative for our company to invest in automated harvesting/packing equipment in order to reduce costs, become more efficient, increase yields, and keep our pricing competitive.
Corporate Governance: I believe it important to establish guidelines and expected practices for each role within a company in order to maintain a healthy working environment for all employees. Within our company, I have created detailed job descriptions for each employee, including management, paired with a separate managerial meeting to explain the importance of how we, as mangers, must act as a board of directors by governing our company and properly delegating while leading by example.
Financial Expertise: I have taken several Business Finance classes while obtaining my college degree, some of which were focused on Agricultural Finances. Since my return to our family operation, I had been responsible for completing the annual budget which has given me real life experience and engraved in my mind the importance of proper financial management. As sales manager, it is a necessity for me to be able to quickly evaluate all input costs associated with each item of produce in order to negotiate contracts and/or daily pricing. Each season, I conduct and handle the sales for ~ $15 million of product. I have also began personally investing in land which requires the creation of a business plan to see what crop will be most viable for the greatest ROI.
Communication: My daily duties require to be able to effectively communicate with a large spectrum of people including office personnel, harvest foremen and crews, warehouse staff, legal staff, produce buyers, and high level retail procurement executives. I have become confident in detecting the proper tone and/or body language necessary to effectively communicate via any form (in person, telephone, email, video conference, and/or text messaging).
Technology: I have always taken interest in learning the newest technological advances and consider myself to be well versed in all aspects of computers, smart phones, etc. Regarding our farming operation specifically, my skills include a high level of knowledge in Microsoft Office, Famous Software, Itrade, Retail Link, and GPS systems for our tractors. I recently headed and completed the project of upgrading our software to have all of our warehouses linked remotely in order to manage inventory and sales orders. I am currently heading our project of converting to mechanical harvesting and purchasing an automated sweet corn packaging line that will include x-ray vision and will be the first of its kind.
Human Resource Management: My role within the company includes the management of 5 full time employees, up to 4 corn harvesting crews, 1 bean harvest crew, up to 200 cherry harvesters, irrigators, tractor drivers, and warehouse staff. This requires negotiating compensation, housing and ensuring our employees have a safe and welcoming environment.
Risk Management: Risk and liability within a farming operation has come to necessitate evaluation on a daily basis. In efforts to limit our risk, I continue to invest in employee safety training, remove dangerous/old equipment from the work place, hire contract labor, and purchase security based software. As the head of sales, I have also to continued to limit our exposure to a weak market by growing the percentage of contracted product prior to the harvest season beginning.
Leadership: Being a manger within our farming operation has allowed me to absorb the qualities needed to be an effective leader within a company and the community. My goal each day is to lead by example by maintaining patience and the willingness to learn from others. I believe that I am able to carry out all tasks necessary in order to encourage others to do their best and create a shared success. I continue to lead within our company and our community.