American AgCredit is pleased to welcome Curt Hudnutt as its new President and Chief Executive Officer, effective October 19, 2020.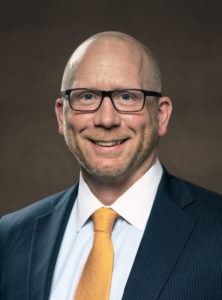 "I want to extend a warm welcome to Curt as he joins our organization," said outgoing CEO Byron Enix. "Curt's vision, experience, and strong leadership will help us find new ways to be successful in serving our mission and our customers."
After thirty-seven years with the Farm Credit System, and seven successful years as President and CEO of American AgCredit, Byron will serve in a consultative role alongside Curt until his retirement on January 31, 2021.
"I'm very excited to join American AgCredit," said Curt. "With the company's unwavering commitment to agriculture, we have a strong foundation in place to continue to improve the lives of farmers and ranchers so critical to the American economy.  I look forward to building on the company's long history of success."
Curt's career in agriculture spans 18 years and includes positions leading operations, business development, underwriting, and risk management. Most recently, Curt served as Head of Rural Banking for North America at Rabo Agrifinance.
Curt graduated with honors from the University of Northern Iowa with a Bachelor of Arts in Finance and Spanish. He earned a Master of Business Administration in Management, graduating with honors in 2008. He is also an alumnus of the Harvard Business School's Executive Education Program, having completed the General Management Program in 2015.
A third-generation farmer and landowner, Curt operates a 400-acre corn and soybean operation in Iowa. He has been married to his wife Nikki for 15 years and together they have three children: Austin, Jacob and Mia. In his free time, he enjoys golfing, reading, spending time on the farm, watching sports and relaxing on the lake.
About American AgCredit
Founded in 1916, American AgCredit is part of the nationwide Farm Credit System, and is the nation's fourth-largest Farm Credit cooperative. American AgCredit specializes in providing financial services to agricultural and rural customers throughout California, Colorado, Hawaii, Kansas, New Mexico, Nevada and Oklahoma – as well as to capital markets customers throughout the country.
Financial services provided by American AgCredit include production and mortgage financing, equipment and vehicle leasing, crop and life insurance, lines of credit, and the Young, Beginning and Small Farmer Program. In addition, the Association provides interest-free loans for qualifying 4-H and FFA AgYouth programs, as well as college scholarships to young people interested in agriculture. Learn more at www.AgLoan.com.