Santa Rosa, Calif., (August 26, 2021) – American AgCredit, a member-owned Farm Credit cooperative, today announced that Sarah Kolell has joined the Association as Chief Brand Officer.
In this role, Kolell is leading the marketing, communications, storytelling, legislative affairs, and sustainability efforts of the Association.
"Sarah's deep understanding of production agriculture, finance, and sustainability create marketing and engagement efforts that move our Association forward and deepen our connections with the customers and communities we serve," said American AgCredit CEO Curt Hudnutt. "Sarah brings a proven history of supporting business development and employee connections. I believe her brand leadership will accelerate our efforts to support the long-term viability and profitability of our customers."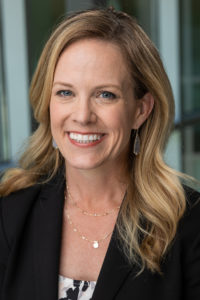 Sarah previously led marketing, communications, and sustainability for the rural banking arm of Rabobank North America. Prior to her time at Rabobank, Kolell led U.S. public relations for AdFarm, an international integrated marketing communications agency, looking after a number of animal health and crop protection accounts. She's also worked in public relations at Hallmark Cards and the state of Kansas, as well as in broadcast journalism as an anchor and reporter.
"Perhaps more than ever, connections are vital to our success," said Kolell. "Our brand team is committed to building and supporting connections – to one another, to our customers, and to our communities. We will work to share the stories of our customers and help the world experience the responsible, sustainable way in which our customers are providing food, fiber, and fuel we all rely on."
Sarah holds undergraduate degrees in Communications and Theology from the University of Northwestern and a Master's in Business Administration from the University of Kansas. She and her family reside in Kansas.
About American AgCredit
Founded in 1916, American AgCredit is part of the nationwide Farm Credit System and is the nation's fourth-largest Farm Credit Association. American AgCredit specializes in providing financial services to agricultural and rural customers throughout California, Colorado, Hawaii, Kansas, New Mexico, Nevada, and Oklahoma – as well as to capital markets customers throughout the country.
Financial services provided by American AgCredit include production and mortgage financing, equipment and vehicle leasing, crop and life insurance, lines of credit, and the Young, Beginning, and Small Farmer Program. In addition, the Association provides interest-free loans for qualifying 4-H and FFA AgYouth programs, as well as college scholarships to young people interested in agriculture. Learn more at www.AgLoan.com.