Santa Rosa, Calif., (July 20, 2021) – American AgCredit, a member-owned Farm Credit cooperative, today announced that Rich Hollis has joined the Association as Chief People Experience Officer.
Rich previously led people strategies, human resources and generational transfer for The Maschhoffs, a family-owned pork production company that operates across nine states with 500 farms and over 1,100 employees. Rich served as a member of the executive team and had a leading role in the company's environmental and sustainability initiatives.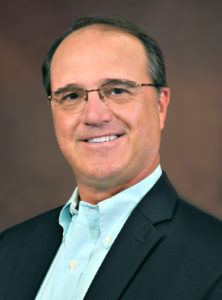 "The commitment Rich has to building relationships and improving the experience for employees is unparalleled," said CEO Curt Hudnutt. "He brings a personal touch to the role of Chief People Experience Officer and will be a strong advocate for maintaining and building upon the culture of American AgCredit."
Rich's 30-year career includes leadership in agricultural lending and cooperatives, as well as in animal protein production.
"I have been involved in agriculture my entire life and have a deep passion for supporting an industry I believe in," said Hollis. "It's a privilege to be part of an Association that is 100% committed to its employees, customers and communities."
Rich graduated from Western Illinois University majoring in Agriculture Business & Education. Rich is passionate about serving his community, agriculture and his family. He and his wife live in Columbia, Illinois, where they are active in local youth agriculture organizations.
About American AgCredit
Founded in 1916, American AgCredit is part of the nationwide Farm Credit System and is the nation's fourth-largest Farm Credit Association. American AgCredit specializes in providing financial services to agricultural and rural customers throughout California, Colorado, Hawaii, Kansas, New Mexico, Nevada and Oklahoma – as well as to capital markets customers throughout the country.
Financial services provided by American AgCredit include production and mortgage financing, equipment and vehicle leasing, crop and life insurance, lines of credit, and the Young, Beginning and Small Farmer Program. In addition, the Association provides interest-free loans for qualifying 4-H and FFA AgYouth programs, as well as college scholarships to young people interested in agriculture. Learn more at www.AgLoan.com.