A thick fog is draped across the hills above Napa Valley, oak and madrone trees emerging and fading from view in the ethereal spell of morning. In time, the sun rises and removes the veil on woodlands and trails leading to the doors of Chappellet Winery.
It was on this hillside that Donn and Molly Chappellet took a leap into the unknown. In 1967, the couple sold their home in Beverly Hills and moved with six children to the undeveloped Pritchard Hill. The nascent U.S. wine industry had yet to undergo a revolution in quality, and Donn saw an opportunity to grow a better tasting cabernet sauvignon at high elevation.
More than 50 years later, his son Cyril Chappellet and siblings have guided the family winery to new heights, including a rare 100-point score for the winery's 2016 Pritchard Hill cabernet sauvignon from Wine Advocate.
​​​​​​​"I have been dedicating my life to helping make this the most remarkable vineyard and winery in the Napa Valley," said Cyril, who is board chair at Chappellet and board member at American AgCredit.
"Over the years, we've had a number of neighbors build wineries around us, which just verifies that dad made the right choice."
'A brilliant decision'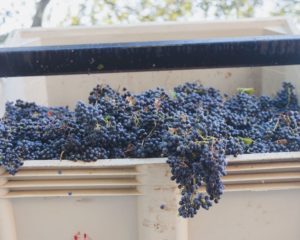 As fortune would have it, Pritchard Hill's volcanic soils and steep terrain are perfectly suited for cabernet sauvignon and Bordeaux varietals. Few understand this property better than Dave Pirio, director of vineyard operations, who has guided Chappellet's estate for nearly 40 years.
"[The family] couldn't have picked a better spot," said Dave. "When they signed those papers and became owners of this land, that was a brilliant decision because it's 100 acres that nobody else in the world has here on Pritchard Hill."
Dave has worked closely with the Chappellet winemaking team to grow some of the greatest wine grapes in the world, alongside the storied vineyard estates in France. His team carefully tends the family's certified organic vineyards, which rise from about 800 feet to more than 1,800 feet in elevation. ​​​​​​​
"It's a huge puzzle for us to put together and make great wine," said Dave. "Before that happens, before it's all blended, we get to see every block out here in its raw form after it's been turned into wine, and we can make connections to what we were doing in the vineyard."
Nurturing land and community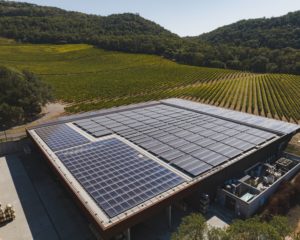 In the premium wine-growing regions of California, organic farming with a focus on sustainability has become the norm for many vineyards. From the beginning, the Chappellet family has taken seriously its role as stewards of the land. The winery has been growing organically since the 1980s, planting cover crops, composing waste and limiting water use in a drought-prone state.
In 2008, Chappellet took a major step to lower its environmental impact by launching an extensive solar energy project at the winery, financed in partnership with American AgCredit. Today, the renewable energy gathered by 960 solar modules is able to fully offset the winery's power bill.
"Everybody loves to say you're sustainable, but it's really what you do and it's how you do it," said Cyril. "We now understand that it's every single thing you do."
Being good stewards of the land is important to the family, and so is keeping the community healthy in Napa Valley.
Cyril's wife Blakesley Chappellet is an author, philanthropist and winemaker who advocates for better healthcare access. She sits on the board of the community health center and hospital foundation in Napa Valley, in addition to her work with the Napa Valley Vintners and Collective Napa Valley.
"When we talk about our industry and when we talk about leaving this place better for the next generation, it doesn't mean just Pritchard Hill," said Blakesley. "It means Napa Valley overall. I'm most focused on the health of our community."
Making the vision a reality
As the second generation to lead the winery, Cyril has played an important role in helping Chappellet evolve into a high-performance brand with an unusual ability to retain employees. He sees a bright future for the winery and credits his teams who bring new energy and passion into the business.
"What gets me up every morning is the excitement of this business going in the right direction and really working," said Cyril. "It's exciting to me that we've been able to take my father's dream and really make a reality out of it and build this in a direction that continues to get better and better."
From vineyard operations to hospitality and the tasting room, the Chappellet team has a shared passion for the craft and helping visitors experience some of the world's best wine.
"I've been here since 1984," said Dave. "Our foreman has been here over 50 years. That kind of experience is really valuable for all of us. We also have a lot of young people with a lot of youthful energy who are interested in doing good work."
Cyril and Blakesley live on the Chappellet estate, regularly hosting visitors from around the world to tour the winery and experience the magic of Pritchard Hill. ​​​​​​​
"A man who was here several years ago stood and looked out at the view and he said, 'I think I'm as close to heaven as I've ever been,'" said Blakesley. "There are so many different aspects of creating magical experiences here at Chappellet because the land is so beautiful, and it does touch your soul."