The USDA released the preliminary California Grape Crush report on February 10, 2022. The report gave the industry a glimpse into grape production and values a year removed from the haymakers thrown in 2020. As foreshadowed in our Wine Industry Trends & Forecast, the report indicates that the total crush of wine grapes increased around 6 percent, led by a sharp 10.7 percent increase in red wine varieties. The average price of wine grapes also increased markedly.
Given the oddities of the 2020 and, to a lesser degree, the 2019 growing seasons, these raw percentage increases should be viewed in context to determine the broader trend. This article will provide context in five simple charts and 500 words to scroll through on your phone, tablet, or other device. As a reminder, the final grape crush report will be released on March 10, 2022.
1. Total 2021 grape crush was below average
First, the wine grape crush in 2021 was below both recent averages and historical trends. The crush of white wine grapes did increase very slightly from 2020. However, 2021 was 6 percent below the 2010 – 2019 average and 15 percent below the historical trend line. Likewise, the crush of red wine grapes increased very abruptly from 2020, but remained 8 percent below the 2010-2019 average and 15 percent below the historical trend.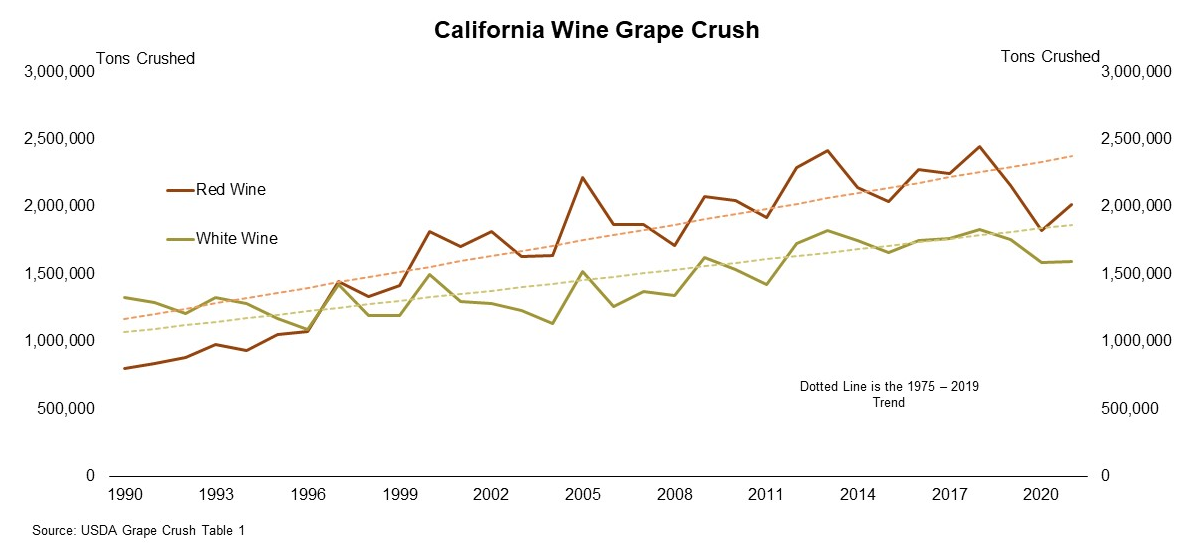 2. Grape prices have increased substantially
Most grape prices increased substantially from the previous year, recent averages, and recent trends. The average price of grapes from red and white varieties increased about 32 and 20 percent from 2020, respectively. Additionally, the average price of grapes from red and white varieties increased about 27 and 15 percent from the 2010-2019 average, respectively. Most popular varieties also individually increased precipitously over both 2020 prices and the 2010-2019 average.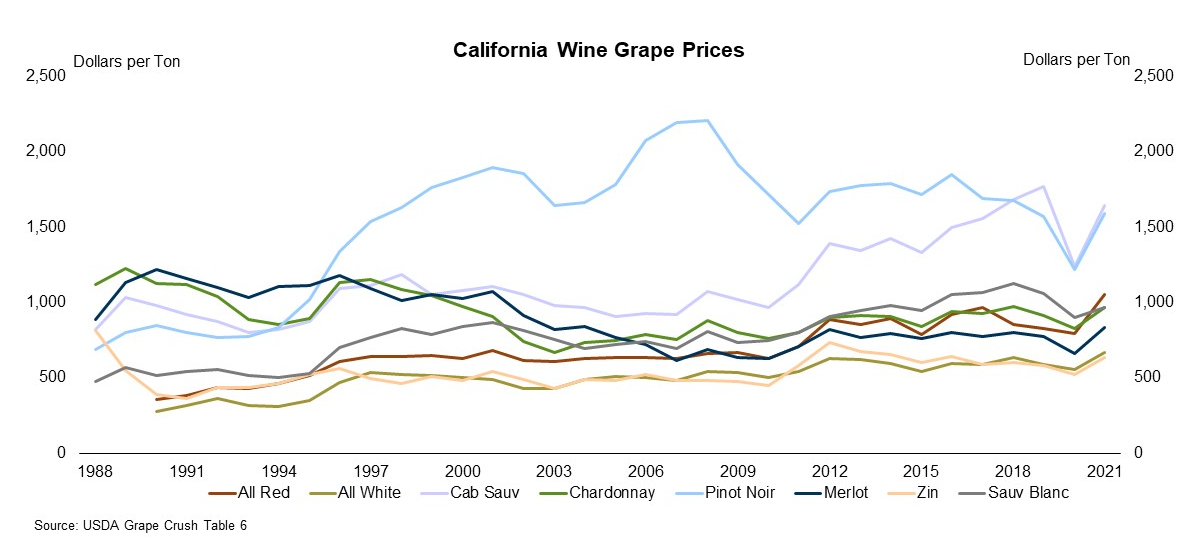 3. Crushed grape values have rebounded
The value of grapes crushed rebounded alongside the jump in tons crushed and prices received. In 2021, the total value of crushed wine grapes increased 37 percent from the previous year and 9 percent above the 2010-2019 average. When accounting for inflation the total value in 2021 was very slightly below the 2010-2019 average. However, the course correction back towards recent averages is welcome news for the industry following a difficult year in 2020.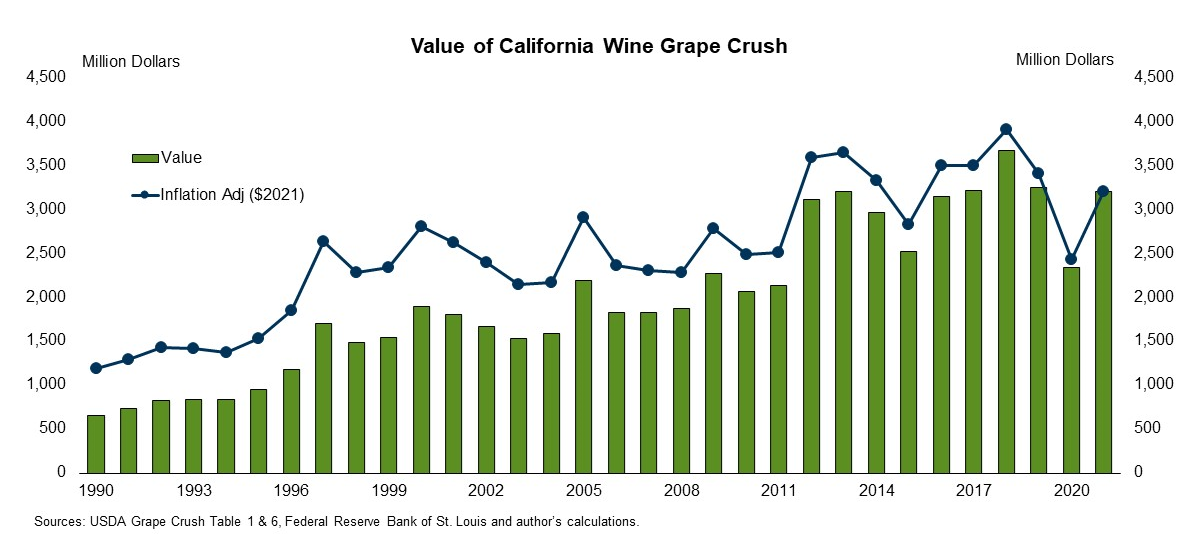 4. Northern California grape values increased sharply
The total value of grapes crushed in the Northern California region also increased. The value of wine grapes crushed in Napa County more than doubled from a year ago, and the value of wine grapes crushed in Sonoma and Marin counties increased 45 percent from a year ago, both on an inflation-adjusted basis.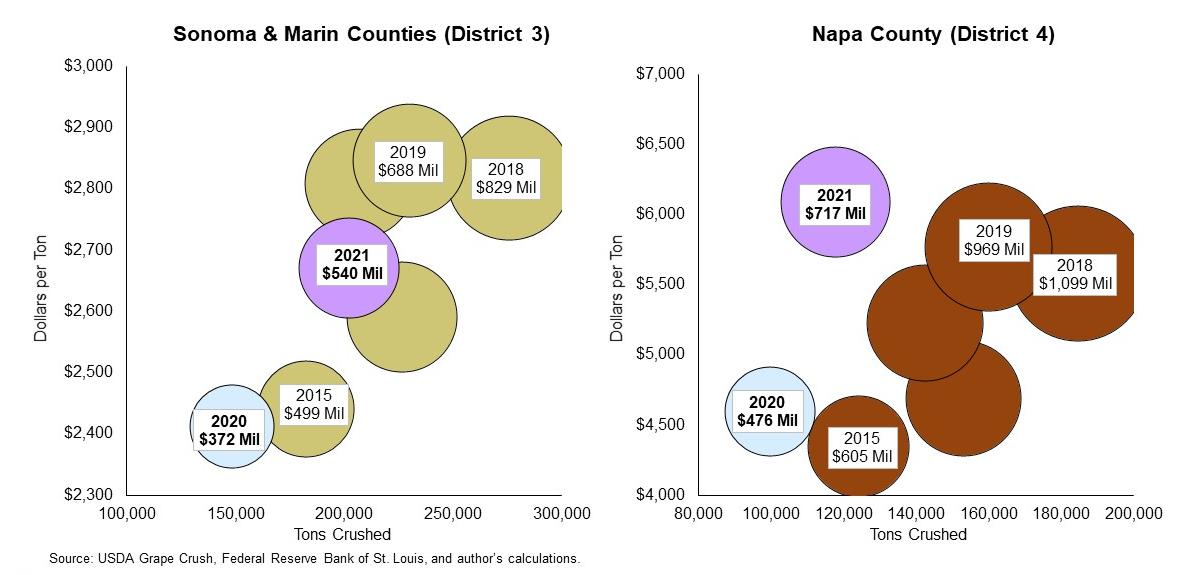 5. Grape crush values have rebounded across California
Finally, the trend of strong improvement from 2020 was also evident in other California Districts. For example, the total value of grapes crushed in the Lodi area and Southern California both increased around 21 percent from 2020.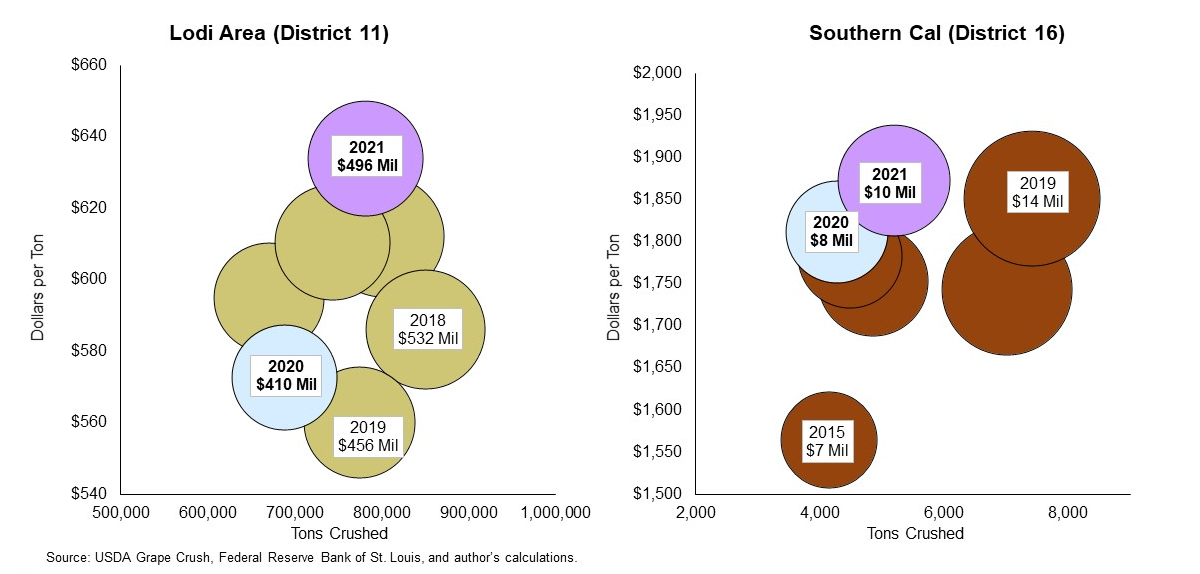 Overall, the 2021 initial grape crush report brought mostly positive news as the industry corrected course from a difficult 2020. Most in the industry expect demand for wine grapes in 2022 will remain strong and support improved grape prices.
LEARN MORE
We are proud to be a trusted financial partner to the wine industry, with personalized solutions and expertise to help your business grow. To learn more, please visit our contact page or call us today at 800.800.4865.
Disclaimer: This material is for informational purposes only and cannot be relied on to replace your own judgment or that of the professionals you work with in assessing the accuracy or relevance of the information to your own operations. Nothing in this material shall constitute a commitment by American AgCredit to lend money or extend credit. This information is provided independent of any lending, other financing or insurance transaction. This material is a compilation of outside sources and the various authors' opinions. Assumptions have been made for modeling purposes. American AgCredit does not represent that any such assumptions will reflect future events.