Mary Gillis was seven years old when her family purchased a farm in southern New Mexico, determined to carve out a niche growing chile peppers, onions and other crops on fertile land near the Rio Grande.
Today, she is 87 years old and still farming with the help of her adult children, grandchildren and more than 100 employees of Gillis Farms. In 1954, Mary and her husband Dencil started farming in the Hatch Valley of New Mexico, growing green and red chiles, onions and squash in an area that is now famous for its unique, flavorful peppers.
Mary said the farm has gone through high and low points over the years, which has kept her humble even as the farm has prospered in recent years. The Gillis family now operates three companies: Gillis Farms, Desert Springs Produce and Valley Custom Harvesting.
"We went through hard times and nearly had to go bankrupt," said Mary. "I think it does people a good job to learn how it is to be on the bottom and have to work up to the top."
Learning to 'love the farm'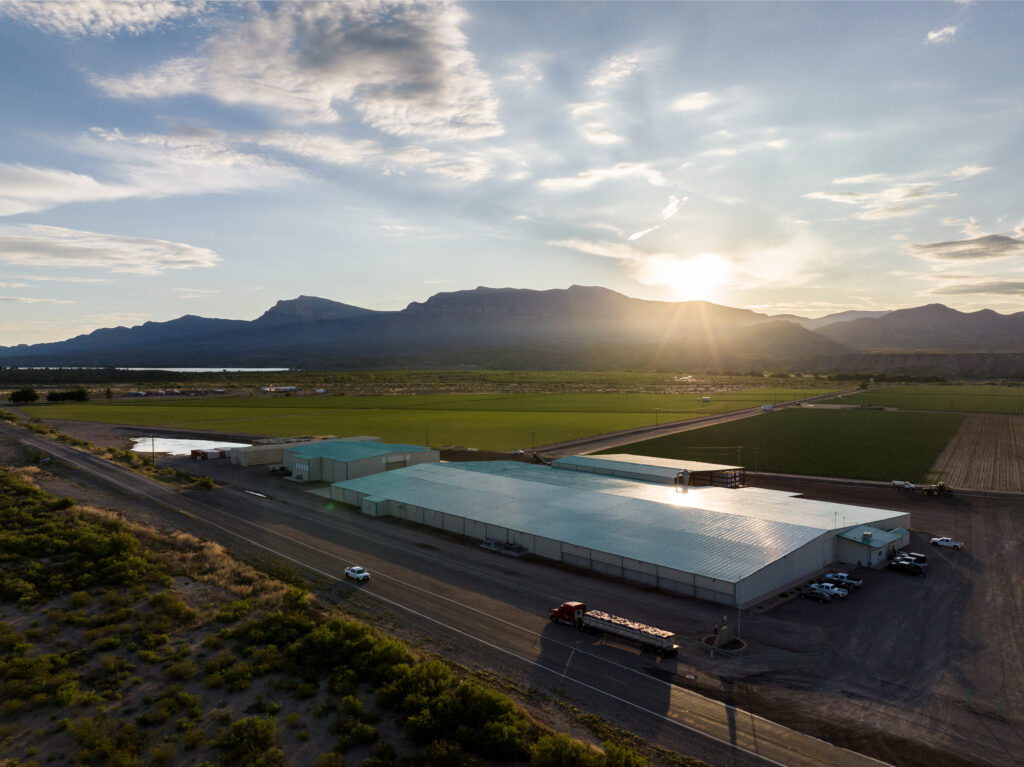 The Gillis family has deep roots in New Mexico agriculture, dating back to 1918 when Mary's mother Rose Riggs and her family started farming in the Rio Grande Valley. Growing up on the farm taught Mary the value of a hard day's work – and the importance of integrity.
"We have worked with a lot of good people, and that's helped us along the way," said Mary. "You're only as good as your workers. If you can't do what they do, then don't expect them to do it."
Mary relates her success in farming to her childhood experiences in southern New Mexico, where she learned the importance of a strong work ethic and integrity.
"I raised my kids the same way I was raised on the farm," said Mary. "I taught them how to work hard, appreciate what they were doing and love the farm."
Duane and Dale Gillis, two of Mary's adult sons, are partners in the business and fourth-generation farmers on more than 3,500 acres of crop land in the Hatch Valley. Duane runs the chile operation, while Dale manages the onion side of the business.
"We don't always agree on things, but we are able to expand because everybody has their niche, ideas and strengths," said Duane. "So we're able to put more branches on the tree, grow things and be more diversified by having more family members involved."
As Gillis Farm has grown steadily over the years, so has the reputation of New Mexico's Hatch green chiles. The peppers are now widely regarded in the U.S. for their rich flavor and balance of sweetness and heat.
"Hatch chile is famous all over the world, and it's great to be part of that," said Duane. "We love growing it, and we love eating it, too. It's the warm days and cool evenings that make this such a special place for growing chiles."
The family operation also includes Desert Springs Produce, a fresh green chile and onion processing, packing and shipping center that is used by other local growers, and Valley Custom Harvesting, which harvests beardless wheat and silage for local dairies.
Dale has seen the family business grow since he officially came on board in the 1980s. He said the chance to pass on a share of Gillis Farms to his son motivates him to continue working hard and helping the operation succeed.
"I want to leave a legacy for my son so that he's able to start farming on this land and everything that's passed down to him," said Dale. "A lot of the kids that want to come in [to agriculture], it's impossible for them to even be able to start farming. Being able to pass this down is huge."
Growing stronger with each generation
Mary and Dencil Gillis first started working with Farm Credit in the 1980s as they looked for options to grow the farm and strengthen its financial footing. Over the years, the relationship has continued as the family purchased land and expanded into new services, such as produce storage and custom harvesting.
Jacob Penn is a relationship manager with Farm Credit of New Mexico (soon to be merged with American AgCredit), who has worked closely with the Gillis family since 2007. He said during his time working with the family, their farming operation has grown at an impressive pace, while bringing new generations into the business.
"It's a family-run operation led by a strong matriarch who is a role model to all those around her," said Jacob. "She raised four amazing children and dozens of grandchildren and great-grandchildren. It's been great to work with such a well-run, diversified vegetable operation here in southern New Mexico."
For Mary, her 80 years living and working on the farm have instilled an appreciation for the family members who came before her. She said that her work on the farm draws inspiration from these past generations while also learning from their mistakes and missteps along the way.
"I think you learn from generation to generation," said Mary. "You learn their faults and you learn their success stories. Every generation has something that they can teach you if you're willing to learn."