IT PAYS TO DO BUSINESS WITH US
It may sound like a cliche, but now, more than ever, it really does pay to do business with American AgCredit. In addition to our 100% focus on agriculture, competitive rates, agribusiness expertise and local customer service, the Cash Dividends Program literally puts money back in your pocket.
HOW, YOU ASK?
As part of the Cash Dividends Program, American AgCredit will distribute cash dividends to qualified customers based upon the strength of the Association's performance and the level of each customer's "patronage."
FOR EXAMPLE
The Association has distributed more than $350 million dollars in the cash dividend program since its inception in 2006. Individual dividends were based on the average daily balance of each qualified customer's loans. At American AgCredit the more business you do, the more money you earn back.
THE AMERICAN AGCREDIT CASH DIVIDEND PROGRAM EXPLAINED…
WHAT IS A CASH DIVIDEND?
Cash Dividends are a way of allocating a portion of American AgCredit's net income to its member borrowers.
HOW DOES THE ASSOCIATION DECIDE TO PAY A CASH DIVIDEND?
At the end of each fiscal year, American AgCredit's Board of Directors determines whether to distribute some or all of the Association's net income after all expense have been paid. The Board can either elect to retain the net income to strengthen the Association's capital position or distribute the net income in the form of a cash dividend.
WHO QUALIFIES TO RECEIVE A CASH DIVIDEND?
All borrowers who own capital stock in the Association qualify to receive cash dividends. However, the Board of Directors may exclude certain customers such as those with loans in default.
HOW ARE CASH DIVIDENDS CALCULATE
The Board of Directors determines how much cash dividend-sourced earnings can be distributed while still retaining adequate surplus to fund future growth. Your cash dividend is based upon the average daily balance of your loan(s) as a percentage of the total loan balances owned by the Association. For example, if you borrow $500,000 for the year and the balance of all loans owned by the Association was $2 billion, you would receive .025% ($500,000/$2 billion) of any qualified cash dividend.
WHEN ARE CASH DIVIDENDS DISTRIBUTED?
If the Board approves a cash dividend, your cash dividend will be paid by check early in the following year based on the prior year's earnings. Check may be distributed anytime after February but before September 15th.
ARE CASH DIVIDENDS TAXABLE?
While the earnings distributed as cash dividends are tax exempt to the Association, members receiving cash dividends must pay taxes on their cash dividends as earnings. Consult your tax advisor about your specific situation.
ARE TAX NOTIFICATIONS SENT FOR CASH DIVIDENDS?
Yes. Each January, American AgCredit will send you an IRS Form 1099-PATR. This form will show the total for all cash dividends issued to you during the previous year.
HOW DO CASH DIVIDENDS BENEFIT BOTH AMERICAN AGCREDIT AND ITS CUSTOMERS?
Cash dividends reduce the Association's tax liability on that portion of net income distributed as cash, which means that customers share in more of the Association's earnings. Customers further benefit from the cash dividends they receive, which effectively reduce their loan costs.
WHY DOESN'T AMERICAN AGCREDIT REDUCE INTEREST RATES INSTEAD OF PAYING CASH DIVIDENDS?
For two reasons: one, because federal regulations prohibit us from charging below-market interest rates, and two, because our ability to generate earnings is a critical measure of stability and enables us to offer the most competitive rates and services.
STILL HAVE QUESTIONS?
Contact us at (800) 800-4865 or dividends@agloan.com to learn how you can enjoy the most competitive rates possible and cash dividends on your loans.
DIVIDENDS PAID OUT SINCE 2011 (IN MILLIONS)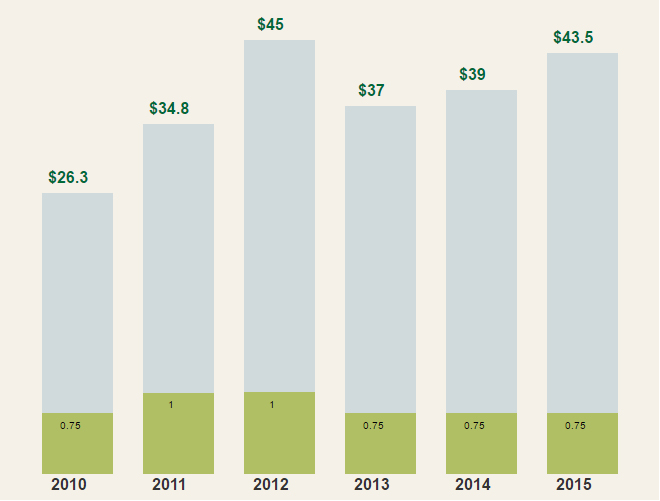 The graphic above illustrates the cash dividends paid out over the time period shown. The total amount in millions is shown above. The percentage of patronage paid back is shown at the bottom. For example, for 2015, we paid out 75 basis points (or.75%), totaling $43.5 million in dividends.