California farmers play a lead role in producing the nation's supply of fruit and nuts, recently accounting for more than 70 percent of U.S. production. Strong growth in the Northern San Joaquin Valley has been a significant driver of California's growing share of total US fruit and nut receipts. At the same time, tree nut operations managed through a difficult 2021 growing season marked by adverse weather, shipping struggles and higher input costs. These issues are likely to persist well into 2022, but demand for tree nuts should remain strong.
Weather conditions through early March have been unfavorable for tree nut producers and may reduce average yields in 2022.
The cost of water, labor, fertilizer, chemical and other inputs are likely to remain elevated, while demand for tree nuts is likely to remain strong.
Supply chain logistics remain a challenge to sustained growth in export markets.
---
General Fruit and Nut Overview
Total U.S. cash receipts for tree fruits and nuts increased significantly from 2010 to 2014 but have since declined to levels just above 2008. Total U.S. cash receipts for tree fruits and nuts reached an inflation-adjusted peak of $38 billion dollars in 2014, mostly due to significant gains in California. Prior to 2014, the percent of total cash receipts coming from California was 65 percent. Since 2014, California has contributed around 72 percent of all U.S. nut and fruit receipts. Cash receipts in states outside of California are lower than 2008 levels.
Growth in almonds, pistachios and walnuts has been a contributing factor to the increase in California's fruit and nut cash receipts. Receipts for these crops, largely grown in California, more than doubled from 2008 to 2020. During the same period, receipts for all other fruit and nuts increased only 2 percent.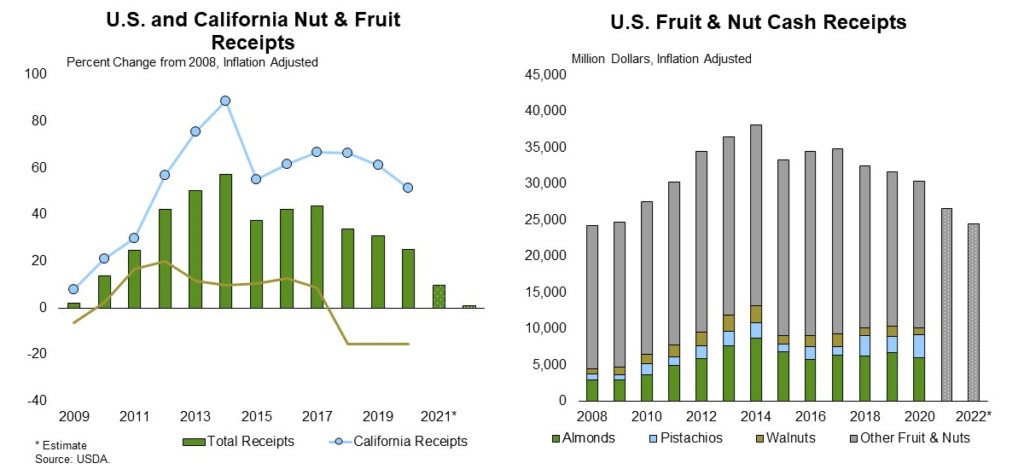 The growth in almonds, walnuts, and pistachios has been particularly evident in Sacramento, San Joaquin, Stanislaus, and Merced counties. In 2020, the total almond acres that were harvested in these counties topped 427,000 acres, and total harvested walnut acres topped 120,000 acres. Harvested pistachio acres were just of 8,000. As with most of California, the growth in these crops has largely displaced acres in field crops and pasture land.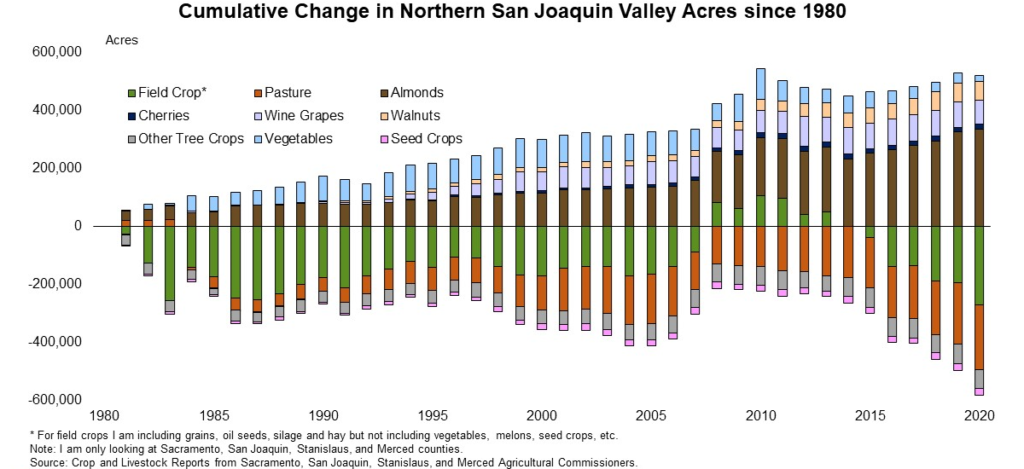 Threats to Continued Growth for the Industry
Despite the strong growth in these crops, there are several headwinds that pose a stiff challenge to continued growth. First, drought conditions for most of the Northern San Joaquin Valley have intensified. The California Department of Water Resources indicates that the San Joaquin region had a total of 22.6 inches of precipitation from October 2021 to early April 2022. This is above the 2020-2021 water year, the third driest on record where precipitation levels totaled only 18.8 inches but remains at approximately 50% of the historical 1991-2020 average. Additionally, most of this precipitation was received in December 2021. Since the beginning of the year, the area has received very little precipitation.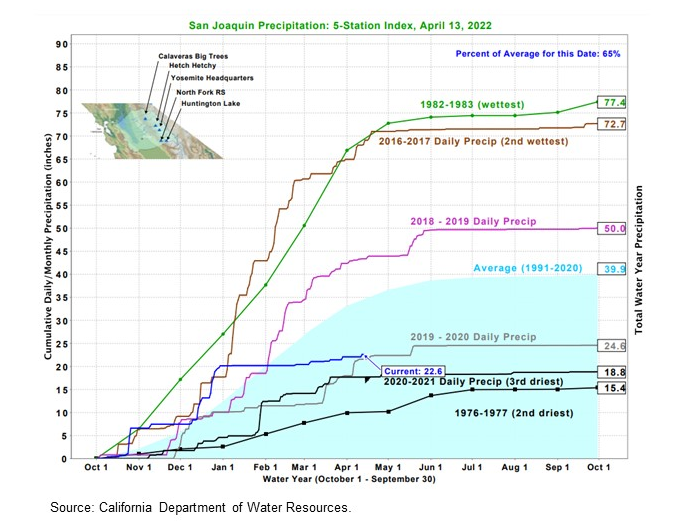 California closed December with above average snowpack levels, but a dry January and February have put levels well below normal in 2022. According to data from the California Department of Water Resources, statewide snow water equivalent levels, which measure the amount of liquid water contained in snowpack, were 23 percent of normal at the end of February.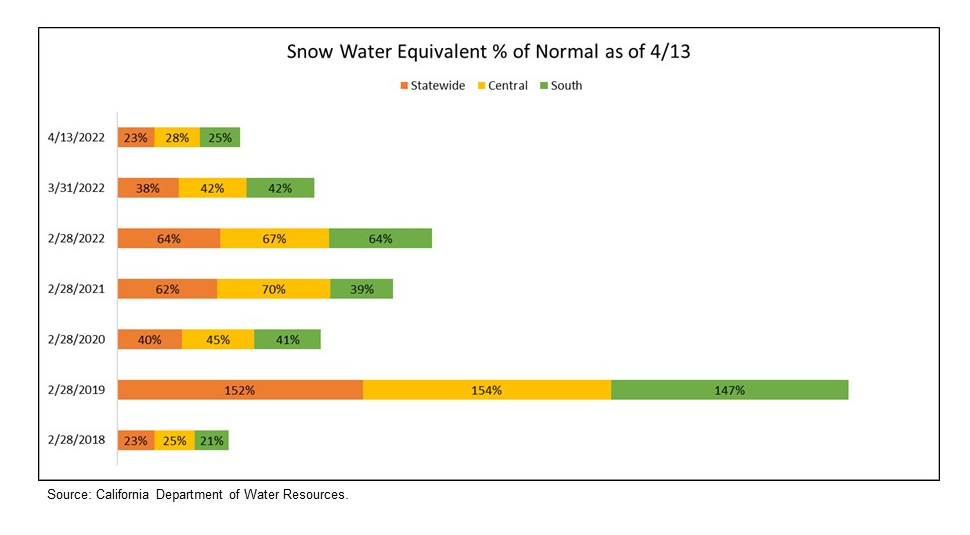 This prolonged drought period is impacting soil moisture levels throughout the state, including the Central Valley. The National Integrated Drought Information System tracks the Palmer Drought Severity Index (PDSI) and the Evaporative Drought Demand Index (EDSI), which measure both soil moisture conditions and the atmospheric evaporative demand, or "the thirst of the atmosphere" for a given location.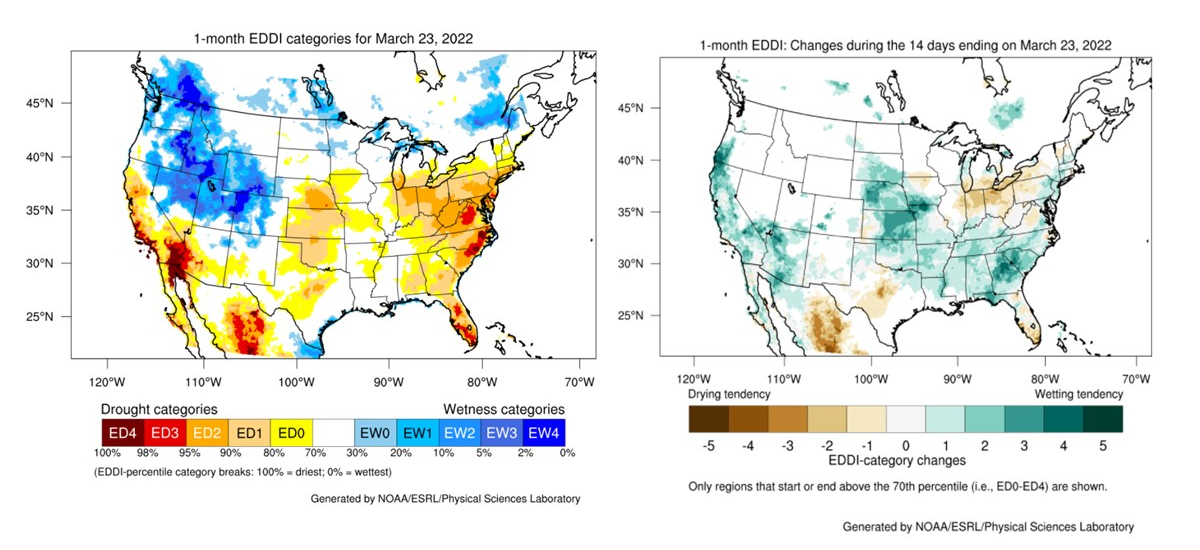 As expected, the drought conditions have also placed a premium on the price of water. As an example, the California Water Index, as calculated by WestWater Research, remains at a historically elevated level. This index closely tracks with the share of the state that is in severe to exceptional drought. Moreover, orchard values with strong access to surface water have significantly appreciated over values with more restricted water rights. These trends are likely to continue as groundwater sustainability plans are submitted and approved.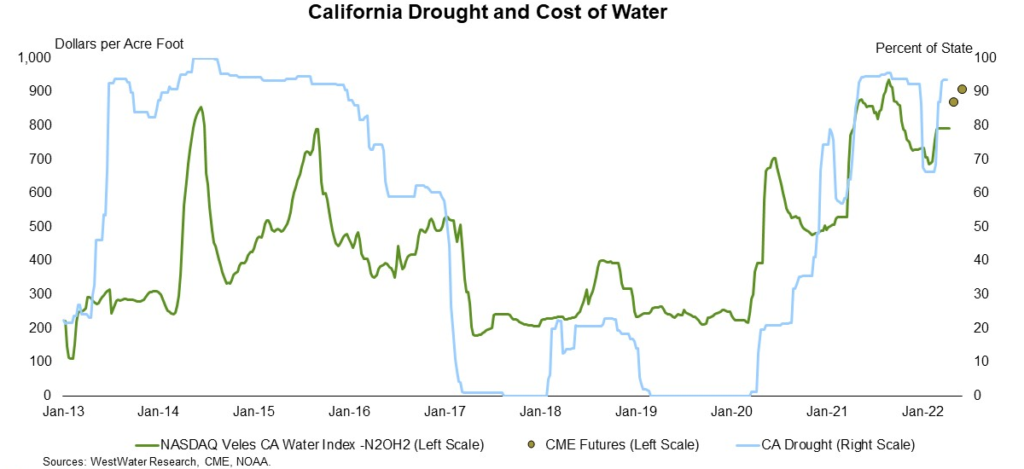 In addition to higher water prices, input prices in general are expected to be much higher in 2022 and will cut into profit margins and perhaps production. For example, the USDA's price index for Nitrogen and all crop sector inputs reached their highest recorded values at the beginning of 2022. The price index for chemical costs also reached the highest level since March of 2017.
Wages for agricultural workers in California have also increased alongside general wage appreciation. Most in the industry expect continued pressure on fertilizer, chemical, wages and general farm input costs.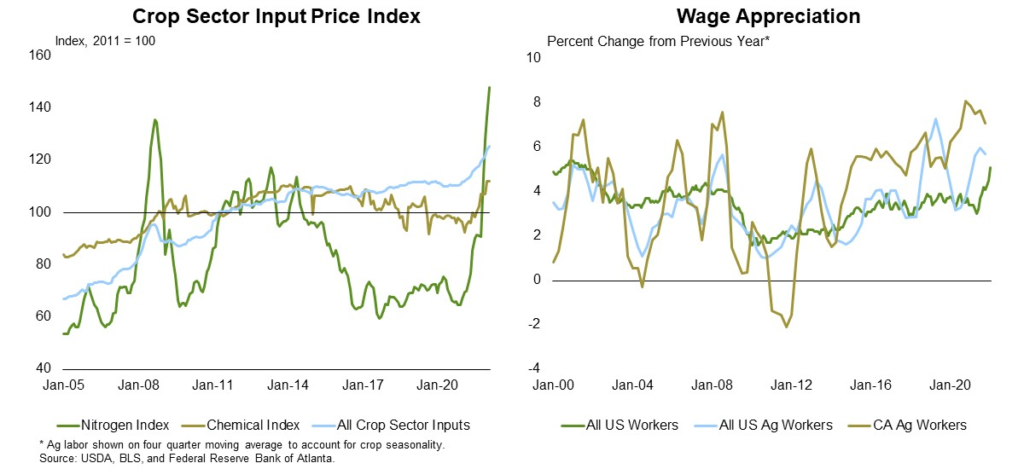 Finally, supply chain constraints that have hampered exports, increased hauling costs and created shipment delays are likely to persist in 2022. Current data collected by the USDA and Bureau of Labor Statistics indicates that the cost of trucking, rail, deep sea freight and air freight are each at record highs. The convergence of record cost in each of these modes of transportation serve as a poxy for general supply chain constraints and imply that costs are likely to remain elevated in the near future.
Importantly, the cost of transportation and other inputs have risen at a faster pace than tree fruit and nut prices, indicating pressure on grower margins.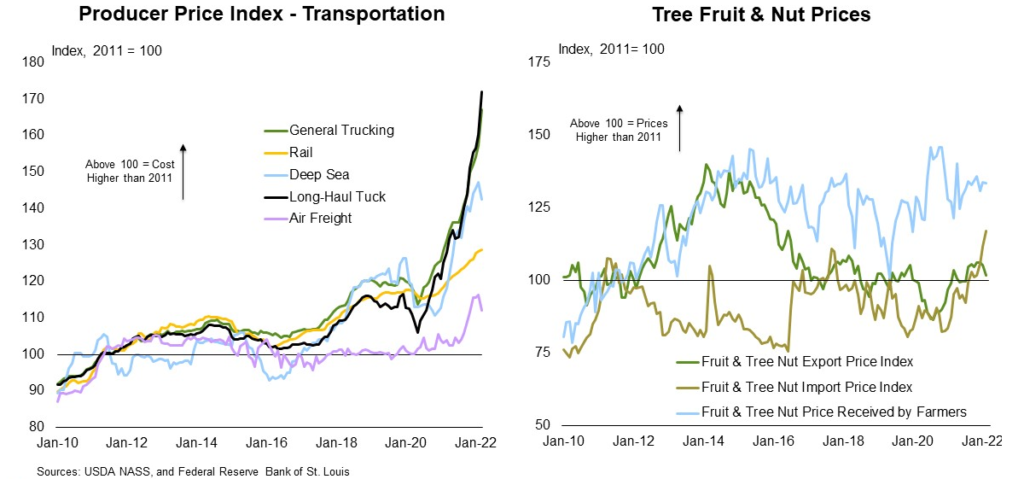 Outlook for Specific Tree Nuts in the Northen San Joaquin Valley
The sentiment around the outlook for the almond industry in 2022 is somewhat subdued. Almond production has significantly increased in California, but most in the industry expect the final estimate of the 2021 crop to be smaller than the 2020 crop due to drought issues.
Despite an expected decline in yields, tree nut prices are expected to be slightly lower than the 2020 crop average. Prices are not expected to increase due to relatively high global ending stocks and supply chain issues. Although global ending stocks were slightly lower than the record 2020 crop, nearly all the decline came from the United States as ending stocks outside of the U.S. increased 6 percent, alongside a 3 percent increase in total supply. Since the majority of the almond crop is exported, strong global stocks and supply chain issues are expected to weigh on the final 2021 crop price.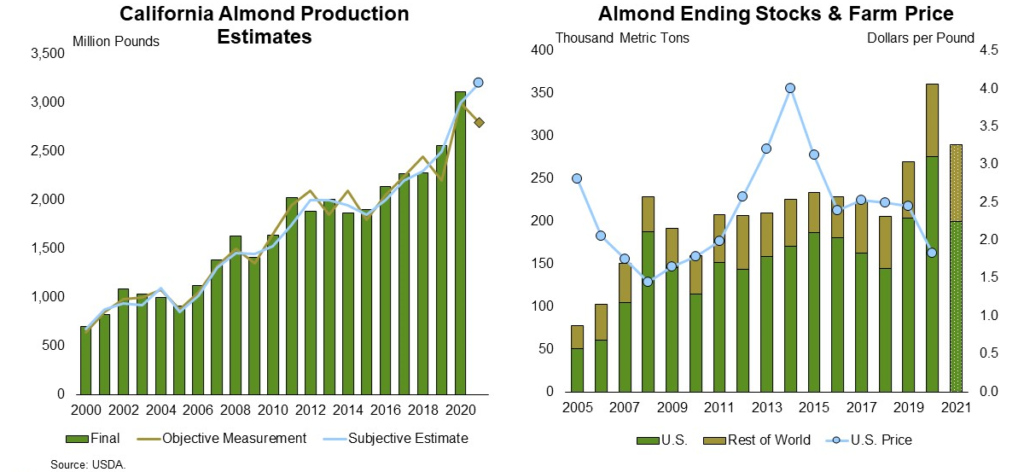 Despite the relatively large ending stocks of almonds, demand is thought to be elevated. According to the Almond Board of California position reports, the total shipment of almonds for the 2021 crop is about 12 percent above the 2015-2019 average, but nearly 15 percent below last year's levels. The lag in total shipments has been driven by a sharp decline in exports.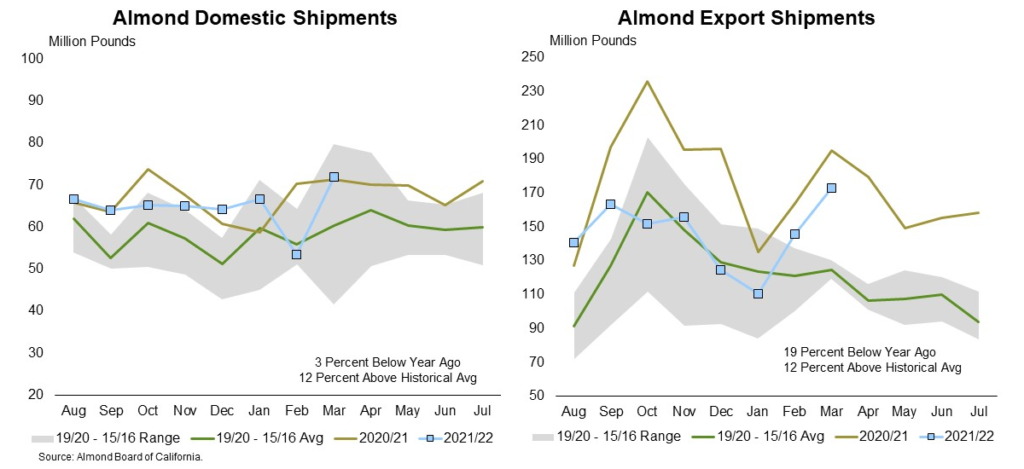 It is important to remember that although exports are well behind year ago levels, international demand for almonds is still strong. For example, when analyzing export changes in calendar year 2021 from 2020 (which includes a mixture of crop years), it is noticeable that many countries did increase their consumption of U.S. almonds. This may point to the sharp increase in transportation costs and general supply chain logistics as the primary cause of the decline in exports.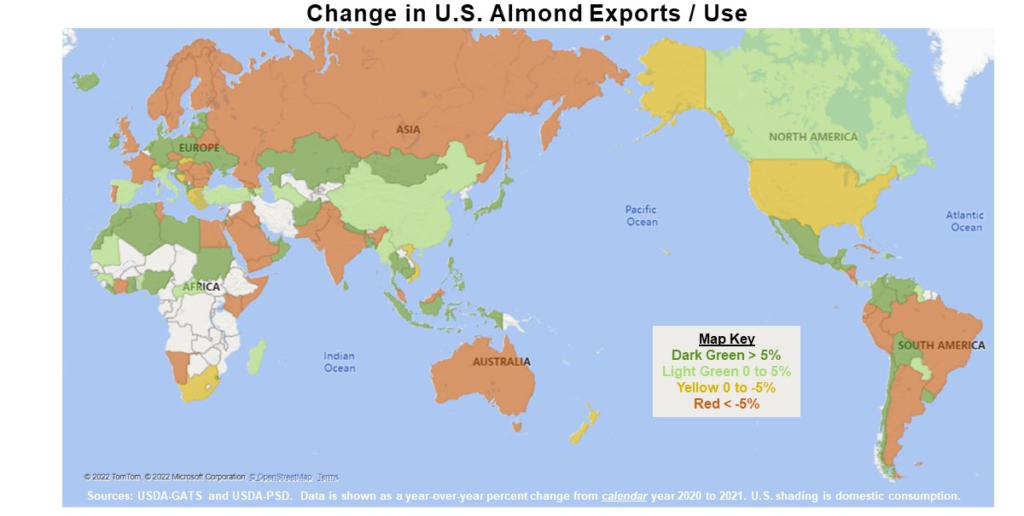 Looking to almond production in 2022, most in the industry expect lower yields due to adverse weather and ongoing drought conditions. Specifically, the Central Valley experienced a wide range of temperatures this winter, with historic lows and record highs observed in February.
The National Weather Service recorded a total of seven nights with below freezing temperatures and three consecutive nights below 30 degrees in the Merced region. Conversely, a stretch of record-setting temperatures above 75 degrees also occurred during the same period. Both low and high temperature observations are six degrees below and eight degrees above the normal average for February.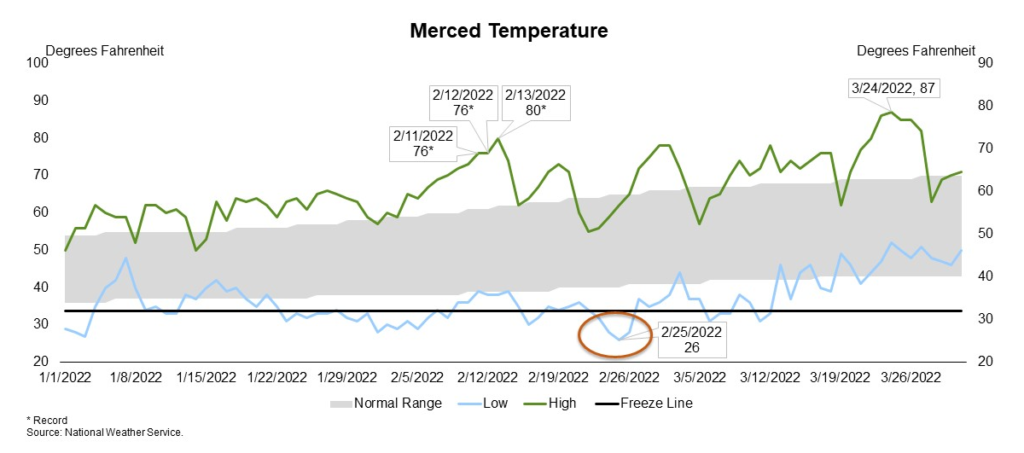 The extent of damage varies by location, orchard age and level of frost protection. However, most producers expect at least some damage to their crop. Freeze damage, the ongoing drought and the high cost of water will likely weigh on yields and total production.
The sentiment in the pistachio industry is mostly positive. Pistachio production in the U.S increased 10 percent from the previous crop to a new record, but production in the rest of the world declined sharply resulting in a sharp decline in global ending stocks. Pistachio production in 2022 is expected to be strong due to the alternate bearing nature of the crop. Also, pistachios are slightly less impacted by drought than almonds, though drought and input costs will still pressure yields and profit margins in 2022.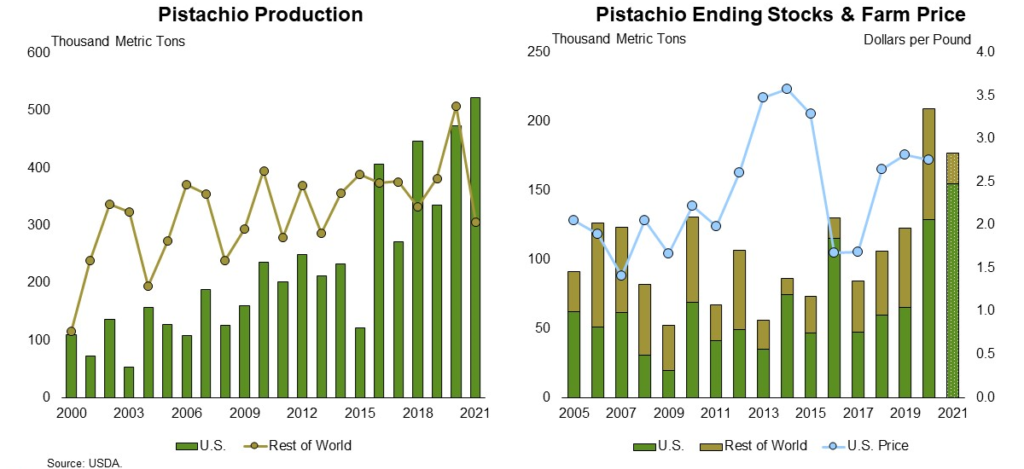 Final prices for the 2021 crop are expected to remain near the previous year as strong demand offset record production. Total shipments of the current crop of pistachios are more than 6 percent above the previous year. The increase in shipments is driven by both domestic consumption and exports which are 9.7 and 4.8 percent, respectively, above year-ago levels.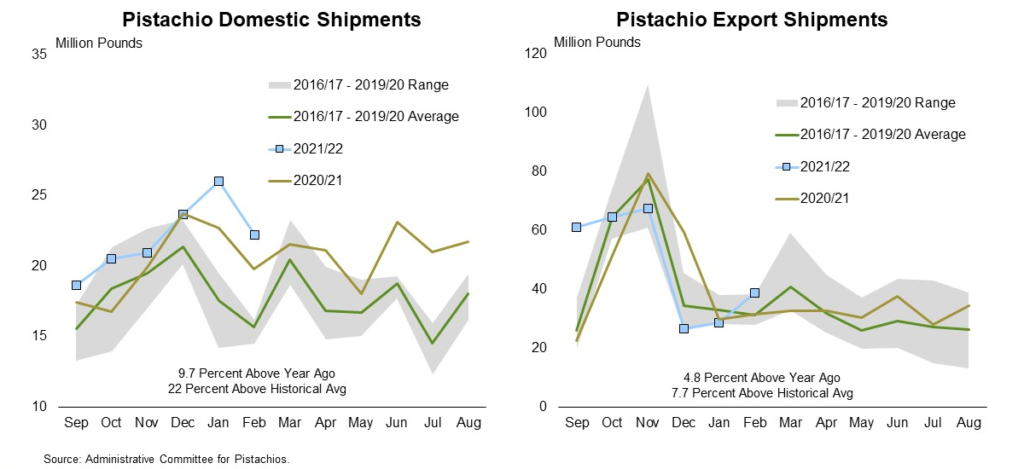 Like almonds, demand for U.S. pistachios remains diverse. Calendar year exports were strong as well.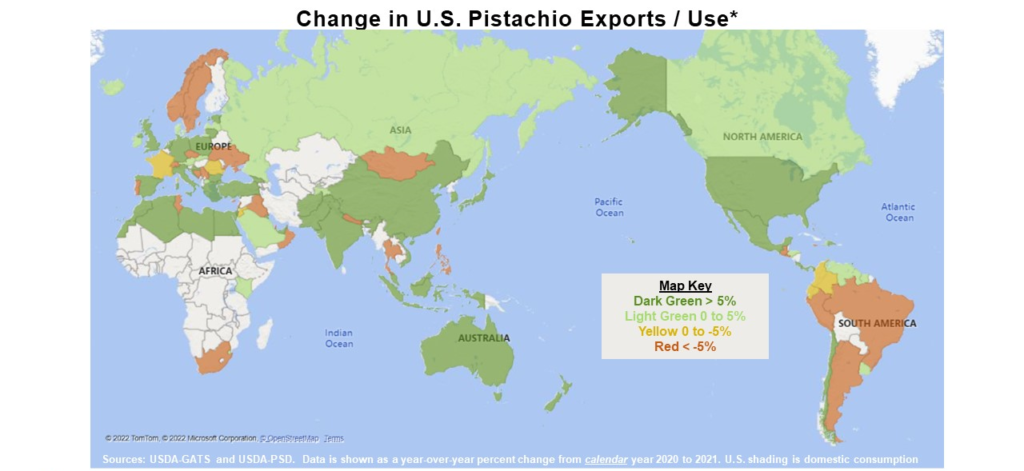 Finally, the sentiment in the walnut industry is subdued. Total walnut production in California is expected to decline about 15 percent from the previous year. The decline in production is mostly due to drought and above normal temperatures.
Global walnut production increased about 2 percent in 2021. The increase in global production pressured the export market, and U.S. exports are expected to decline about 11 percent. U.S. consumption of walnuts increased about 4 percent from the previous year while global consumption declined. A less robust global market, complicated by supply chain issues as well as some quality issues from above-normal heat, has pressured U.S. prices, which are expected to be similar to last year's levels.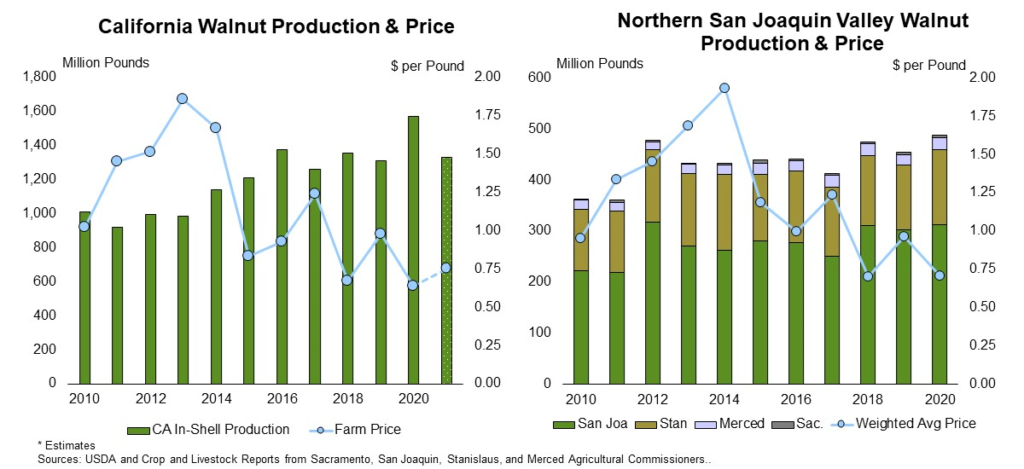 Conclusion
California has seen impressive growth in tree nut cash receipts, particularly in the Northern San Joaquin Valley, as almonds, pistachios and walnuts contribute handsomely to the state's cash receipts in this sector. In 2022, tree nut producers are facing unseasonable weather and limited precipitation, rising input and transportation costs, and shifting demand for their products. However, the robust demand and increased appetite for nuts like pistachios and almonds will likely result in continued growth for these commodities.
LEARN MORE
We are proud to be a trusted financial partner in agriculture, with personalized solutions and expertise to help your business grow. To learn more, please visit our contact page or call us today at 800.800.4865.
Disclaimer: This material is for informational purposes only and cannot be relied on to replace your own judgment or that of the professionals you work with in assessing the accuracy or relevance of the information to your own operations. Nothing in this material shall constitute a commitment by American AgCredit to lend money or extend credit. This information is provided independent of any lending, other financing or insurance transaction. This material is a compilation of outside sources and the various authors' opinions. Assumptions have been made for modeling purposes. American AgCredit does not represent that any such assumptions will reflect future events.