Head through southwest Kansas in the summer and you'll find yourself driving down ruler straight roads under a vast and deep blue sky. Here in an unassuming stretch of land near Garden City is an award-winning dairy that produces more than delicious milk.
Royal Farms Dairy has been milking cows and growing feed for more than 20 years. Today, the operation has expanded to 6,500 cows and as many replacement heifers that produce millions of pounds of milk each month. Managing Partner Kyle Averhoff said the key ingredients to the dairy's success are passionate people and animals that are treated well.
"Taking care of our cows is ultimately such a pinnacle of what we do," said Kyle. "My family has been involved in milking cows for a long time now, and the cows are what pay the bills."
It's all come full circle for Kyle, who grew up on a small dairy in Texas. He and his wife, Michelle, now live on the farm with their three children. With a focus on integrity and animal health, Kyle and his business partners have earned the respect of the industry and consumers alike.
"We are really fortunate that we're in a business where good care of the cows aligns really well with maximizing profitability of our business," said Kyle. "In other words, the better care we take of our cows, the better conditions they are in, the more stressors we remove from her, typically the more she produces and more efficiently." ​​​​​​​
Navigating change in the dairy business
From shifting consumer preferences to global market disruptions and inflation, the dairy industry has seen its fair share of challenges over the last few years. For Kyle and his team, change is all part of life in the dairy business.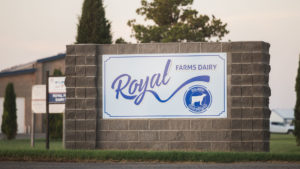 "For us, it's just part of the daily routine of figuring out how we tackle the next level of change," said Kyle. "There are those who thrive in change, and those who deal with it as more of a challenge. We try to be open minded and think strategically about how we're going to move through the next layer of change."
​​​​​​​
One change for the dairy has been learning how to steadily produce more milk with fewer resources and less waste. Royal Farms Dairy keeps a close eye on water use, taking in water used to cool milk and cycling it back through the milking parlor, then onto the fields growing feed. It all adds up to a cheaper water bill and less impact on the environment.
Ask Kyle, and he will tell you that running a profitable dairy starts from the ground up, with a focused approach to soil health and limiting the number of inputs needed to grow feed.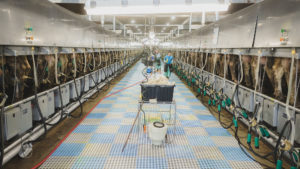 "The better care we take of the ground from a fertility standpoint, from an organic matter standpoint, from a weed control standpoint, ultimately it results in higher yields and fewer inputs in the following years," said Kyle.
​​​​​​​As consumers across the country get more and more interested in how their food is made, Royal Farms Dairy is proud to show off its healthy cows and the delicious dairy they produce.
"What we do today is what we think are the best options," said Kyle. "On any given day, we're looking at the next change to make conditions better for our cows and a better story of how we produce food—and ultimately market it to our consumers."