On a frigid and clear February morning, cattle are huddled together for warmth, exhaling trails of vapor into the crisp Colorado air.
Aside from a temperature dipping to eight degrees below zero, it's a typical winter day at Magnum Feedyard. The 35,000-head capacity yard in Wiggins, Colorado, lies about an hour northeast of Denver. Steve Gabel started this business nearly 30 years ago while working for a smaller feeding operation, seeing an opportunity to get involved in running the business.
Steve earned an animal science degree from Colorado State University while working at CattleFax when he took an interest in cattle feeding and marketing. When he later found the opportunity to run his own yard, Steve jumped at the chance. He's helped to steadily transition Magnum Feedyard from a service business that didn't own its own cattle to a feed yard that now owns 80-85% of the cattle it feeds.
"I think people do business with people," Steve said. "And at the end of the day, with 30 years of track history, we've had the opportunity to meet and become acquainted with lots of people that feed cattle."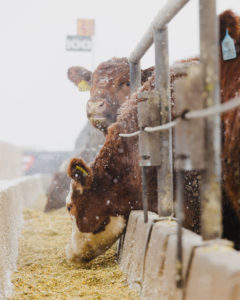 Steve has taken a "slow and methodical" approach to running Magnum, steadily increasing the number of owned cattle, and focusing on marketing. In 2021, the Cattle Feeders Hall of Fame inducted him as a testament to his role in the Colorado cattle feeding industry.
Steve attributes his success running his operation to a strategic location, a marketing agreement, and rock-solid relationships in the industry developed over three decades. It's a business founded on trust and integrity.
"It's amazing to those outside our industry that we deal with the dollars that we deal with on nothing more than one agreement to take [cattle] or our willingness and agreement to sell them," said Steve. "We're a relatively small feeding entity. Last year, we marketed almost 73,000 cattle at a dollar value of about $160 million."
Steve has a team focused on taking care of the thousands of animals on-site, leading to positive outcomes for the quality of the finished product, and for the health of his business.
"We employ a consulting nutritionist, a consulting veterinarian, a consulting environmentalist, and the environmentalist helps keep us on the right track," he said.
"More importantly, at the end of the day, I've got five grandkids, and I hope at some point in time they all have a desire in some way, shape, or form to be involved in the business."
Opening doors for the next generation
Magnum Feedyard is a family-run operation, with two adult children involved in the business and Steve's wife, Audrey, handling accounts payable and financial reporting. Case Gabel, Steve's son, leads cattle procurement for the feed yard with a focus on animal health and risk management.
He said the unpredictable weather, challenges of animal husbandry, and the increasingly competitive nature of the industry keep his job interesting and rewarding. With employee tenures often lasting for decades, Case said he feels a responsibility to carry on the success of his father and continue to build a profitable business.
"We have a responsibility to all of our employees to carry on the legacy," he said. "At the end of the day, I enjoy the challenge of the business because it's intense."
Case said the feed yard's commitment to sustainability and animal health are rooted in practices like conserving water in a drought-prone state, composting the organic matter the operation produces, and participating in a Colorado State University study that measured nitrogen capture and emission at the feed yard.
"We all understand it's our responsibility," said Case. "First and foremost, take care of the cattle. If we take care of the cattle and provide them a good environment, they'll take care of us. The rest is pretty easy."
Forging close partnerships in agriculture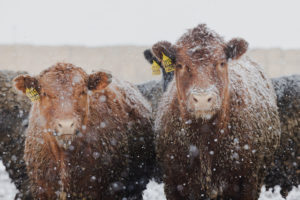 Over time, Steve and his family have forged close relationships with other cattle feeders, buyers, transportation providers, and lenders in agriculture. Brad Collins, managing director of protein and grain sectors for American AgCredit, has known Steve for decades following a shared stint on the Colorado Cattle Feeders Board.
Brad has come to know Steve and his family over the years, building a trusted partnership and providing financial services for Magnum's growing operation.
"I think our business relationship is really a partnership," said Brad.
"American AgCredit is all about forming partnerships, because cattle feeding is volatile. We have to have enough available liquidity to take advantage of opportunities that that present themselves."
A member of the Farm Credit System, American AgCredit serves thousands of farms, ranches, and agribusinesses like Magnum Feedyard in Colorado and beyond. Steve said it makes all the difference to work with a lender who truly understands his business.
"[Brad] has owned and operated a feed yard, and I feel really comfortable knowing he understands what I do day to day," said Steve.
Despite the pressures associated with running a family business, Steve said the rewards have far outweighed the challenges and risks.
"I believe I'm one of the luckiest guys in the world. I get to do what I want to do every day, and I get to do it with my family."