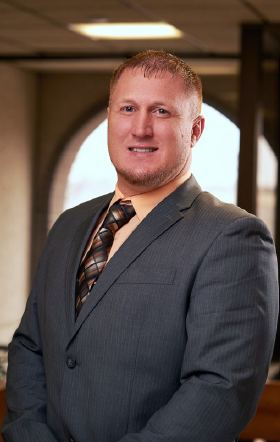 Matthew Medill 
Age as of March 1, 2023:       39
Residence Location:   Lakin, KS
Place of Operation:    Lakin, KS
Business Experience: I have owned my own accounting firm since November 2014. My firm completes tax returns for farm related activities that include farmers and ranchers personal tax returns, grow yards and crop dusters. I am a Certified Public Accountant and Certified Fraud Examiner.
Education: Bachelor's Degree, Accounting and Business Administration
Current Boards: Treasurer of the Kearny County Community Foundation in Kearny County Kansas.
Strategic & Visionary Thinking: To continue the expansion and reach of the loaning community that American AgCredit already services. Also, to increase the ease of applying for and transfer of funds that allow farmers to complete transactions via the internet and phones. This allows the farmers to stay on the farm tending to needed items instead of going to town to complete these items. I would also listen to the clients/customers recommendations and requests to see what we could implement in the future.
Corporate Governance: I believe that when you are appointed to a governing body you need to listen to all ideas presented to the board. After the ideas have been brought to the board's attention, I believe you need to rely on the other board members to help guide each other during decision-making processes. As a board member, you must be knowledgeable about the guidelines and regulations that must be followed during all decision-making processes. As a new board member, I would listen to and defer to the existing board members that currently have more experience.
Financial Expertise: I have owned my accounting firm since November 2014. I am also a Certified Public Accountant (CPA) and Certified Fraud Examiner (CFE). My firm prepares tax returns, payroll, bookkeeping, cash flow statements, governmental audits, financial planning and other accounting duties.
Communication: I communicate with many different people on a daily basis from all different backgrounds and types of businesses. With positive communication skills, I have been able to increase my clientele year after year in my accounting firm. I am also in charge of raising the funds to create an endowment fund for USD 215. Without my communication skills, I would not have the success of raising funds for this endowment.
Technology: At my CPA firm, we update our technology annually from computers to software. We stay up to date on accounting and security regulations to keep our clients' personal information safe. We regularly check our anti-virus and update our software on a monthly and sometimes weekly basis. Our firm requires password protection on all our computers and software.
Human Resource Management: I manage employees on a daily basis. I assign work based on the skills, knowledge, and experience of each of my employees. When we have a job opening, I interview all competent applicants to determine who has the best skill set suited for the open position.
Risk Management: I continually help my agricultural clients manage the financial risks associated with farming. This includes items such as drought risk, tax savings, and the benefits between purchasing of assets verse prepayment of agricultural inputs.
Leadership: I believe I have great leadership qualities because I have had very little turnover in my firm. I would like to believe that is because my employees feel valued and respected inside my firm. I also coach my son and his friends in different sports where I feel the need to be a positive role model to each and every kid. Without being a positive role model in youth sports, I would not get the respect that I receive from every child who is participating and their parents.