Livestock Risk Protection
Livestock Risk Protection (LRP) is a federally subsidized policy, which protects against price decline without sacrificing upside potential. LRP is available for feeder cattle, fed cattle, sheep, and swine. Each species covered includes multiple types, weights, and ending dates. Learn more about livestock risk protection in the below webinar recording including how the program can be precisely tailored to your operation and risk appetite.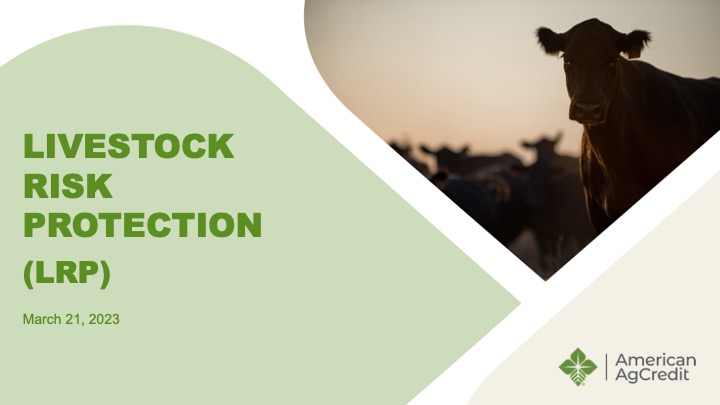 Click the image to view the webinar recording or view here. You will be redirected to Zoom.
Presenters
Josh Hoeme and Michael Redmond, Insurance Agents at American AgCredit and Don Close, Chief Research & Analytics Officer with Terrain
Josh Hoeme has eleven years of crop insurance experience with American AgCredit. He was born, raised, and worked on the family's wheat, corn, grain sorghum, and cattle operation in Western Kansas. With his background, Josh understands that it is essential to have a risk management plan in place that fits each operation individually.
Michael Redmond has four years of crop insurance experience with American AgCredit. He currently works with farmers and ranchers throughout Colorado and Nevada. Michael has an extensive background of over 20 years of insurance sales experience, and he understands the importance of risk management in all facets of agriculture.
Don Close is Terrain's Chief Research & Analytics Officer. Don's prior experience includes his work as a senior animal protein analyst at Rabobank, and as a market director for the Texas Cattle Feeders Association, where he worked on all economic and market-sensitive policy issues for cattle feeders in Texas, Oklahoma and New Mexico.
Sign up for Notifications of New Reports from Terrain
Add Livestock Risk Protection
Are you interested in adding LRP to your operation? Contact one of our crop insurance agents for a quote today.