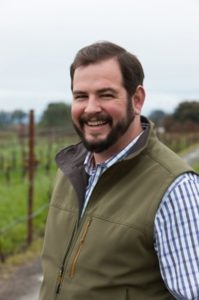 Christopher Hyde
Age as of March 1, 2022:       36
Residence Location:   Napa, CA
Place of Operation:    Napa, CA
Business Experience: Since 2011, I have been General Manager at Hyde Vineyard in Carneros, where we farm over 200 acres of wine grapes. My responsibilities include accounting, capital budgeting, reviewing grape contracts, implementing more modern and effective methods of communication, and working towards more organic and sustainable farming practices. In 2012, I joined my father's winery partnership, H DE V LLC, as Director of Viticulture. My latest work has been on vertically integrating our family operation by overseeing construction and financing of a new facility on one of our vineyards which opened in 2017.
Education: BS, Agricultural Business EMBA, Wine Business
Current Boards: HDEV LLC; Hyde Wines LLC; CP Family Partnership LP
Strategic & Visionary Thinking: Working for the past 15 years to continue my father's legacy of farming in Carneros, Napa Valley and as a director on the Napa County Farm Bureau, I have worked hard to maintain our farming lifestyle in Napa Valley and grow our business and family brand by adding new vineyards and an Estate Winery to our portfolio, and was a part in the purchase of our new winery location for our partnership, HDEV LLC in 2016. We continue to work towards replanting and developing vineyards to expand quality.
Corporate Governance: I have worked for the past 5 years as a director on the Napa County Farm Bureau, and currently serve as Vice Chair on the Napa Pest and Disease Control District Board. I also serve as Vice President at HDEV LLC, our family winery partnership and President at Hyde Wines LLC. I have been General Partner at Hyde Vineyards for the past 15 years.
Financial Expertise: I have reviewed budgets in my role as a board member for nonprofit organizations and my family businesses also. With 2 degrees in business, and working with multiple lenders I'm skilled in business finance.
Communication: As a leader in family business and having studied communication for my business degrees, I am highly capable and experienced in this field.
Technology: I'm highly competent and excel and QuickBooks having managed payroll and worked in accounting, and basically covered every job and skill set in our family business.
Human Resource Management: Part of my job responsibilities include HR at our family vineyard operation.
Risk Management: I'm a farmer.
Leadership: Multiple leadership roles including 3 family businesses, Napa Farm Bureau and Napa Winegrape Pest and Disease Control District as Vice Chair.