Beef and Grain Market Outlook
With heifer retention likely too low to bolster the beef cow herd, can tight supplies continue to support prices amidst a looming recession? Navigating war, drought, and tight grain stocks, where is the market price going for grain?
Terrain protein analyst, Dave Weaber, provides an update of the current cattle cycle dynamics, drought conditions and recovery, and prospects for grilling season beef demand. And grain and oilseed analyst, Cody Barilla breaks down the current factors influencing the wheat, corn, soybean, and cotton markets.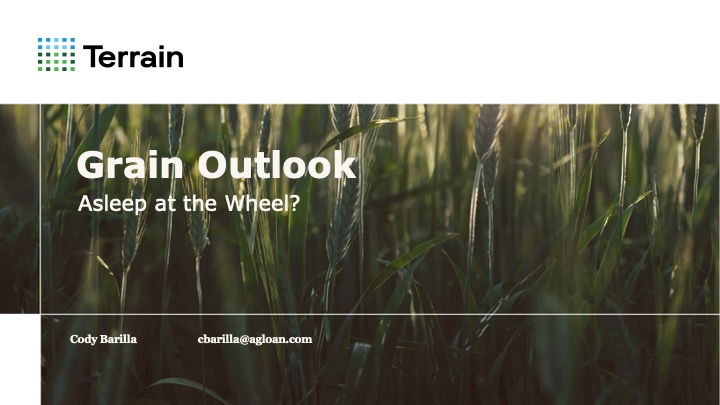 Click the image to view the webinar recording or view here. You will be redirected to Zoom.
Presenters
Cody Barilla, Grain and Oilseed Analyst with Terrain and Dave Weaber, Protein Analyst with Terrain
Previously a real estate and chattel appraiser for American AgCredit, Cody is also a Kansas certified general real estate appraiser. He has a strong background in crop production with his current farming operation, his B.S. in agronomy, and his time as an independent crop consultant.
Dave's career analyzing the animal and meat production business has spanned many sectors of the meat supply chain, from primary production, slaughter and processing to the retail grocery and food service sectors. He has served as a trustee of the Colorado 4-H Youth Fund and on the National Pork Board Retail Advisory Committee. Dave earned his BS and MS in animal science and ruminant nutrition from Colorado State University.