Herd Rebuilding, Consumer Beef Spending, and Global Demand in the Grain Markets
Chinese and global demand, grain price seasonality, and harvest marketing headwinds and opportunities are all currently impacting the grain market. Terrain's Cody Barilla, breaks down each of these factors and the long-term affect they may have on grain prices.
What does slow herd rebuilding and rebounding consumer beef spending mean for cattle prices? In the second part of this webinar, Terrain's Dave Weaber, looks at the current state of the beef industry and what producers can look for in the coming months.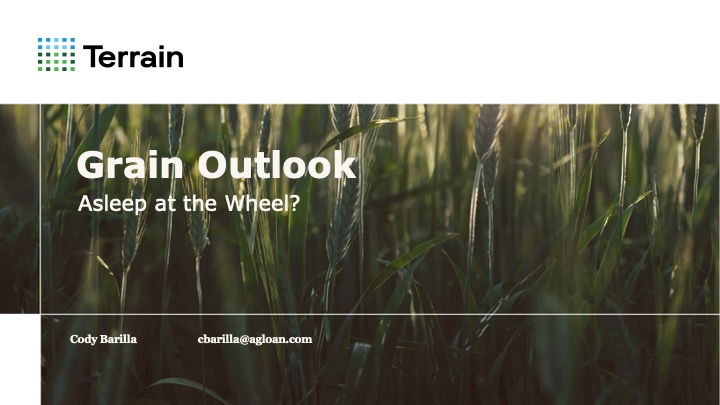 Click the image to view the webinar recording or view here. You will be redirected to Zoom.
Presenters
Cody Barilla, Grain and Oilseed Analyst with Terrain and Dave Weaber, Protein Analyst with Terrain
Previously a real estate and chattel appraiser for American AgCredit, Cody is also a Kansas certified general real estate appraiser. He has a strong background in crop production with his current farming operation, his B.S. in agronomy, and his time as an independent crop consultant.
Dave's career analyzing the animal and meat production business has spanned many sectors of the meat supply chain, from primary production, slaughter and processing to the retail grocery and food service sectors. He has served as a trustee of the Colorado 4-H Youth Fund and on the National Pork Board Retail Advisory Committee. Dave earned his BS and MS in animal science and ruminant nutrition from Colorado State University.