Nestled at the foot of Taylor Mountain in Santa Rosa, California, is a small organic farm that is breathing new life into the land while sustaining thousands of native bees and honeybees.
Bees N Blooms is a labor of love for owner Susan Kegley and her husband, Geoff. Susan's passion for beekeeping and growing plants is clear when you hear her describe the farm's early days. A former environmental chemist, Susan was searching for a few acres of land in Sonoma County when she came across a field with a lot of potential.
"We wanted a place where we could plant lots of plants for pollinators," said Susan. "When we found this piece of property, we just fell in love with it. It was 11 and a half acres, and it was an open field."
​​​​​​​Today, Susan and her team grow nearly 100 different varieties of flowers, produce organic lavender oil and honey, raise chickens and geese, and host the public for events during lavender bloom each summer. Her goal is to help restore the connection between people and nature, while regenerating soil and providing healthy habitat for insects, birds, and mammals. ​​​​​​​
"We're growing lots of flowers, both for the bees and also for people to enjoy," said Susan. "Humans need beauty. They need nature. So, we wanted people to experience that. And we think that most people who visit us leave happy."
Restoring habitat for pollinators
Bees play a surprisingly important role in the ecosystem for such a small creature. More than 80% of flowering plants need to be pollinated. At the same time, biologists have tracked a decline in pollinator diversity and abundance across many regions, including California.
Bees N Blooms is helping restore habitat for these important insects while educating the public about how they build hives, cooperate with one another and gather nectar, which in turn spreads pollen from flower to flower.
"We do a tour on what are the bees doing," said Susan. "What does the inside of a honeybee colony look like? We have a hive with a window, so [visitors] don't even have to put boots on."
Part of the challenge for pollinators is finding a meal during the times between blooms. Susan and her team have created a farm that has clean forage for bees during these seasonal low periods, while selling plants to people who also are focused on feeding bees.
Entering a labyrinth of lavender
Bees N Blooms has steadily grown into a farm that delights the eyes, ears, and nose. Enter the property and you will find yourself drawn to the purple ring of flowers that is the lavender labyrinth, a maze of pathways through the lavender with a lawn in the center.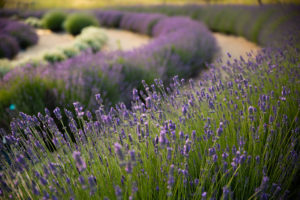 "We decided that we wanted to leave more of the flowers for the bees and to start really inviting people in to visit the farm," said Susan. "They wanted to come and walk the labyrinth. They wanted to visit the chickens. They wanted to be on a farm and watch the pollinators."
On a warm evening in June, Bees N Blooms hosts a few dozen people from a local newcomers' group. Before long, guests begin to walk through the lavender labyrinth and marvel at the expanse of flowers. In the center of the maze, the largest of its kind in California, a group of four play lawn games while the sun sinks lower across the Santa Rosa plain.
"[Visitors] wanted to come and walk the labyrinth," said Susan. "They wanted to visit the chickens. They wanted to be on a farm and watch the pollinators. And so we thought, 'We're going to pursue that avenue.' We have opened the farm during lavender bloom on the weekends."
In a region that draws tourists from around the world for wine tours and tastings, Bees N Blooms has found success with more down-to-earth farm tours and events, including weddings and special events that take place in the lavender labyrinth.
"It really warms my heart to see people leave happy and enjoy the beauty that we've created here."