When making decisions on the farm, some operators will consider their impacts on the next generation, or even two generations down the line. Few are as invested – and deeply rooted – in agriculture as the Lange family in San Joaquin County, California.
Agriculture has been the family's livelihood for five generations, starting when Johann and Maria Lange bought land in Lodi to grow watermelons in the 1870s. The farm prospered, and in 1916, the Langes were able to purchase their first vineyard.
In 1974, twin brothers Brad and Randall Lange founded LangeTwins Family Winery and Vineyards as a vineyard management company. The brothers began selling cabernet sauvignon and other grape varietals to major winemakers and, in 2005, opened their own winery in Acampo to reach consumers directly.
"We started this winery with the thought that if we were going to be an agricultural enterprise going forward, we needed to do something more than just sell grapes," said Randall. "A huge part of it is that our two girls, Marissa and Kendra, had experience in Napa Valley and said they would like to join the company. They've had a good influence on us."
Building a multigenerational wine business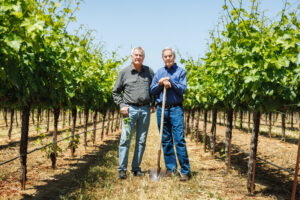 The Lange twins have laid the foundation for a generational winery that is both economically and environmentally sustainable.
Over the past two decades, the Lange family's fifth generation has joined the business in a variety of key roles. At the same time, wine production has grown from around 1,000 cases to more than 70,000 cases per year.
"All of our wines are made from estate-grown fruit form our family's vineyards or vineyards that our family manages," said Marissa Lange, president of the winery. "Everything is sustainably farmed. We start with an extraordinarily high bar for quality."
Beyond the family's vineyard practices, LangeTwins Winery has also stood out in the winemaking process. David Akiyoshi is director of winemaking for the family winery, building on a 35-year career as lead winemaker at Woodbridge by Robert Mondavi.
"We try and always make great wines that are expressive of the vintage, the vineyards, and the varietals that we grow," said David. "In doing so, we are able to produce outstanding wines that respect the natural properties of the fruit and the land."
Tasting sustainability in every glass
Visitors to the LangeTwins winery in Acampo are greeted by a solar panel array that powers the tasting room and facilities. Wildlife restoration projects are helping restore native plants and animals that founders Brad and Randall remember distinctly from childhood. And the family's conservation efforts have limited water use in the vineyards and at the winery.
Kendra Altnow is the sustainability director for LangeTwins, where she leads conservation and habitat restoration efforts on the family's more than 7,000 acres of vineyard.
"My favorite part of this job is doing habitat restoration," she said. "Our first wildlife project was over 20 years ago, and today we're committing even further to habitat and riparian restoration. Right now, I'm most proud of our pollinator project. We have four acres of land that we're reestablishing back to an oak savanna with a focus of pollinator plants."
The Lange family's efforts are returning dividends in the form of better soil health, biodiversity, and efficiency in running the business. For members of the family, stewarding the land is important work that is ultimately expressed in the quality of the wine.
"We put all of our hard work into the bottle, and we get to see the finished product," said Aaron Lange, head of vineyard operations. "There are so many farmers who are only making the base product for something else that reaches the marketplace. It's a heck of an opportunity to highlight the specific vineyards that mean so much to us, and to taste the finished product."
Financial planning for the next generation
Brad and Randall Lange have grown LangeTwins Family Winery and Vineyards from a modest operation to a successful wine business in less than 20 years. Over the years, the family has worked with American AgCredit, a leading Farm Credit lender, to grow their business and expand the operation.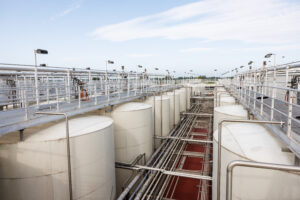 Josh Cheney is vice president and relationship manager with American AgCredit, based in the company's Stockton office. He said that the relationship with LangeTwins Winery has shown him what a focused and organized wine business can accomplish.
"The Langes are fantastic to work with, and they are great primarily because they're very organized and responsive," said Josh. "[The Langes] are ideal clients – responsive, profitable, and with a long-term vision."
When planning operations for the next month, year, or five-year stretch, Marissa said the team at LangeTwins has a keen focus on preserving healthy land and livelihoods for their future generations.
"To be generational, we have to be sustainable," she said. "That certainly is the case in an environmental sense. But it's as much, if not more, in the context of how we are building a business with family connectivity. We are looking at what's coming five generations from now. And that's ultimately our quest – to cultivate a lasting impact together."