It's a crisp February day in Lodi, California. A blanket of fog covers hedgerows of olives at Coldani Olive Ranch as the rising sun bathes the property in the warm morning light.
The Coldani family has farmed this area for more than a hundred years, raising cattle and row crops before moving to olive production in 2005—a change driven by a shift in the market.
"We had this ground that we were earmarking to plant a vineyard, and the market for wine was in a downturn at that time," says Board Chairman Steve Coldani. "Then we got wind of this super high-density olive planting that was occurring, and it came into the United States."​​​​​​​
From there, the Coldani family went all-in on olive oil, forming Calivirgin, a brand producing high-quality olive oil sold directly to consumers. The family notes this model has helped to evolve the business, keeping them more connected to their customers.
"To have a direct-to-consumer arm of the business was very important," says Calivirgin's olive oil and winemaker, Mike Coldani. "You can kind of control your own destiny with it, and it's real enjoyable dealing with the public. I think creating this brand has been very rewarding for us."
Calivirgin's success created an appetite for consumers to experience the product on-site. The family recently opened a state-of-the-art wine and olive oil tasting room, where guests can sip and sample the brand's many flavored varieties. The building may be new, but the team notes they kicked around the idea for years.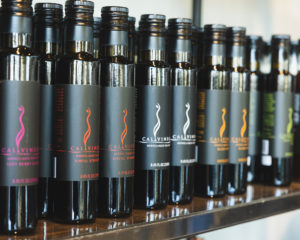 "How we got here was a kind of a winding road, but this is really a version of what we had in our minds many years ago," says Calivirgin CEO Gina Sans. "We learned a lot along that road, but it's still the general concept of what we were hoping for it to be ten years ago."
A visionary ag producer often requires a visionary lender, and American AgCredit's forward-thinking approach to lending made for an ideal partner in helping to bring the Coldani family's vision to life.​​​​​​​
"What works really well is the transparency and the open partnership that we have with one another," says American AgCredit Head of Regional Banking Marc Busalacchi. "They're creating a differentiator to the product and they're really proud of their agricultural roots, which is at the core of what we do and our mission."
While the Coldani's have enjoyed success creating a modern experience for olive oil consumers, the timeless strength of family is largely to thank for where they are today.
"We were all kind of doing other businesses and working in other areas," says Chief Marketing Officer Julie Coldani. "Once we ended up changing to this model, we came together as a family. Now we work together every day, and that's a big blessing."