Is the Agriculture Sector Charged for Transportation Change?
Report Snapshot
Situation
A wave of memorandums, state-level regulation, executive orders and statements have driven significant momentum behind transitioning the transportation fleet of medium- and heavy-duty vehicles (MHDVs) to zero-emission vehicles (ZEVs).
Impact
Transportation is a vital piece of the agricultural supply chain, and any changes to the transportation fleet and infrastructure will have an impact on farmers and the food supply chain. For agricultural producers in California, the transition to zero-emission medium- and heavy-duty vehicles (ZE-MHDVs) is likely to cause some initial disruptions in the supply chain. Larger agricultural producers and processors, and smaller producers that contract with large fleets, in California will begin to phase out traditional MHDVs for ZE-MHDVs and develop the needed infrastructure and logistics for timely charging. In addition to initial supply chain disruptions, the upfront financial costs could be very cumbersome for smaller players and create a geographically tighter supply chain.
Presented by:

---
The Momentum Behind the Movement
The media focus on ZEVs has largely centered on the transition of light-duty vehicles — passenger cars and light trucks — due primarily to California's Advanced Clean Cars rules, which mandate that by 2035 all light-duty vehicles sold in California must be ZEVs. Thirteen other states and the District of Columbia follow the California Air Resources Board (CARB) standards.1 More recently, though, the electrification of MHDVs has gained significant momentum because of actions both in California and nationwide.
First, CARB adopted the Advanced Clean Trucks (ACT) rule in 2021, with the target "to accelerate a large-scale transition of zero-emission medium- and heavy-duty vehicles from Class 2b to Class 8."2 ACT requires manufacturers who certify Class 2b-8 chassis or complete vehicles with combustion engines to sell ZE-MHDVs as an increasing percentage of their annual California sales from 2024 to 2035. By 2035, ZE-MHDVs would need to be 55% of Class 2b-3 sales, 75% of Class 4-8 straight truck sales, and 40% of truck tractor sales.2
Additionally, large employers including retailers, manufacturers, brokers and others are required to report information about shipments and shuttle services. Fleet owners with 50 or more trucks must report the composition of their existing fleet operations.2 Massachusetts, New Jersey, New York, Oregon, Vermont and Washington have also adopted ACT.3
CARB has also passed the Advanced Clean Fleets (ACF) rule. ACF targets MHDV fleets and is designed to build on ACT in accelerating compliance with the 2020 California Executive Order N-79-20, which states, "It shall be a further goal of the State that 100 percent of medium- and heavy-duty vehicles in the State be zero-emission by 2045 for all operations where feasible and by 2035 for drayage trucks."4 The ACF rule has four key components:5
Manufacturers may sell only ZE-MHDVs starting in 2036.
Government-owned (city, county, district and state) fleets need to ensure 50% of MHDV purchases are ZEVs beginning in 2024 and 100% of purchases are ZEVs by 2027, with some caveats for smaller government agencies and near-ZEV purchases through 2035.
All new purchases for drayage fleets, or trucks that move freight very short distances in and out of ocean ports or intermodal facilities, must be ZEVs starting in 2024, with the entirety of the drayage fleet being ZEVs by 2035. All drayage trucks must register with CARB, and any non-ZEVs in the drayage fleet can continue to operate through their minimum useful life.
High-priority fleets must begin transitioning to ZE-MHDV fleets. High-priority fleets are defined as "entities with $50 million or more in gross annual revenue and that own, operate, or control at least one vehicle with a gross vehicle weight rating (GVWR) greater than 8,500 pounds, or are entities that own, operate, or control a total of 50 or more vehicles with a GVWR greater than 8,500 pounds." High-priority fleets in California also must purchase only ZEVs beginning in 2024 and slowly transition their fleets to entirely ZEVs by milestone group (see Table 1).

CARB currently estimates that there are 1.8 million MHDVs operating in California daily, and 532,000 will be subject to ACF fleet requirements.5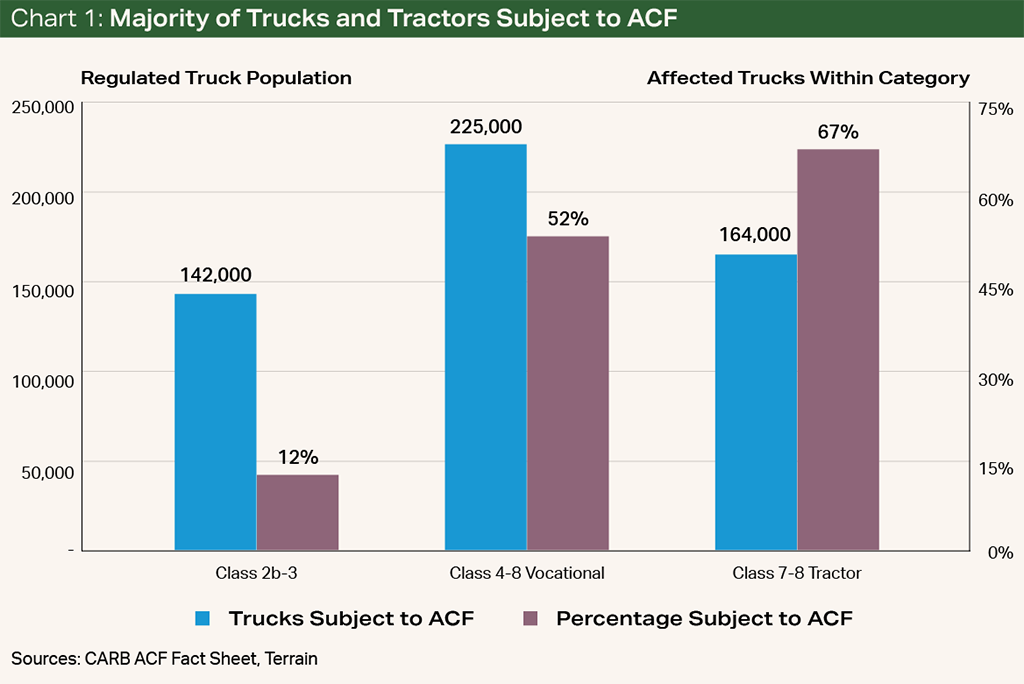 Exemptions may be possible for some fleet owners, however. CARB has recently issued a list of "Updated Flexibilities" that provide the possibility to receive an exemption under specific circumstances.6 For example, there is a potential provision for "fleet owners to apply for an exemption to purchase an ICE [internal combustion engine] vehicle if ZEVs are available in a given configuration, but do not meet the fleet's daily mileage and stationary operational use needs." This exemption might be appropriate for some producers with daily transportation needs that are outside of the current capacity of ZE-MHDVs. Additionally, there is a provision that allows for a delay in transitioning to ZE-MHDVs for areas where the infrastructure transition has also been delayed. Some farmers, agribusinesses, processors and transportation companies may find that portions of their operation fit into these exemptions, which will allow for a less disruptive transition for their business and the food supply chain.

Continue reading Matt's report on the use of electric vehicles in agriculture.
---
Disclaimer: This material is for informational purposes only and cannot be relied on to replace your own judgment or that of the professionals you work with in assessing the accuracy or relevance of the information to your own operations. Nothing in this material shall constitute a commitment by American AgCredit to lend money or extend credit. This information is provided independent of any lending, other financing or insurance transaction. This material is a compilation of outside sources and the various authors' opinions. Assumptions have been made for modeling purposes. American AgCredit does not represent that any such assumptions will reflect future events.