Dairy Consumers of the Future: Changing Focus to Components
Report Snapshot
Situation
In the coming decades, the aging and diversifying U.S. population will be passing several milestones. There will be more older Americans than children, and the population growth will be driven more by immigration than by natural rate of increase.
Finding
As the demographic makeup of U.S. consumers changes, demand for milk fat should continue to grow, albeit not enough to completely offset the slower population growth. Demand for skim solids in the U.S., meanwhile, will flatline, relying on export markets for growth.
Impact
Demographic changes will structurally shift the demand for and values of milk fat and skim solids. Chasing this value could have genetic implications for the makeup of the U.S. dairy herd and will impact how milk is valued.
Presented by:

---
U.S. domestic consumers are high-value sources of dairy demand. Although U.S. dairy exports continue to grow and represent further opportunities for growth ahead, the domestic market is the primary outlet for dairy produced in the U.S., representing about 80% to 85% of milk volume and more than 90% of value.
The U.S. population is getting older and more diverse, and that will have meaningful implications for dairy demand. The growing segment of older consumers has demonstrated some of the fastest growth in dairy demand in recent years. Still, slower overall population growth will be a headwind for domestic dairy demand to overcome.
Through the lifespan of a consumer, dairy demand may start with infant formula followed by fluid milk before diving into mac and cheese and pizza. Somewhere around middle age, that consumer may start looking at cutting back on some of the dairy-heavy staples but may still enjoy the occasional specialty cheese. Older consumers interested in maintaining health and enjoying retirement seek out healthy-aging products and nutrition shakes as well as the occasional ice cream.
As demographic makeup changes, the product mix in the U.S. will change, and with it, the demand for dairy components like milk fat and skim solids. This report investigates the implications of a changing population on dairy component demand by combining data from the National Health and Nutrition Examination Survey conducted by the Center for Disease Control; the Food Intakes Converted to Retail Commodities Database from the USDA, as well as a variety of sources to convert those foods into dairy components; and population and demographic projections from the U.S. Census Bureau.
A Changing U.S. Population
According to the U.S. Census Bureau, the U.S. population is headed for several demographic turning points in the coming decades.1
2030 will mark when all Baby Boomers will be older than 65 years.
Four years later, older adults (over 65 years) are projected to outnumber children for the first time in history.
By 2060, the population over 65 years old will nearly double, and the population over 85 years old will nearly triple.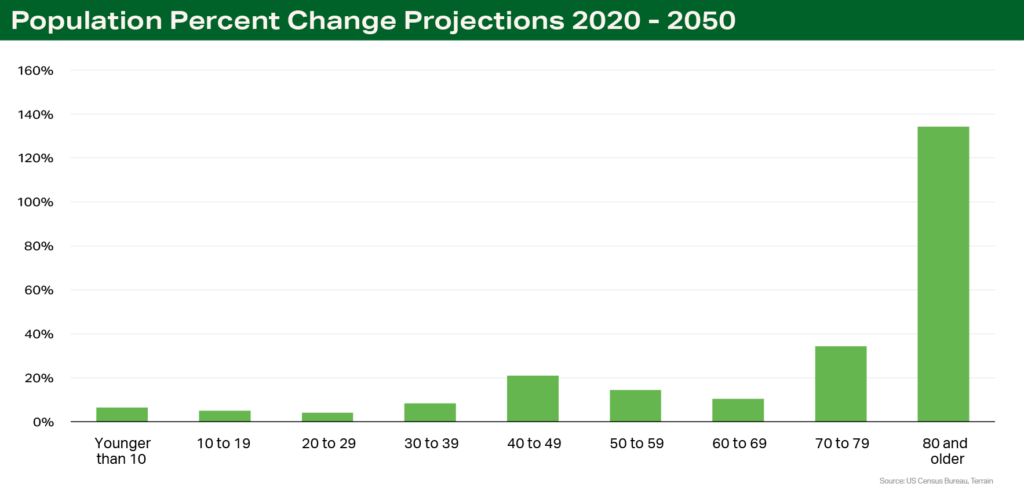 As the older population overtakes the younger population, deaths begin to outpace births and the natural rate of population change (births minus deaths) falls. Immigration will disproportionately be the driver of population increase in the decades ahead.
The combined effect will be slower growth of about 1.8 million more people per year through 2050 compared to an average of about 2.3 million per year since 2010. The resulting population will be older and more ethnically diverse.
Continue reading Ben's report on the dairy consumers of the future
---
Disclaimer: This material is for informational purposes only and cannot be relied on to replace your own judgment or that of the professionals you work with in assessing the accuracy or relevance of the information to your own operations. Nothing in this material shall constitute a commitment by American AgCredit to lend money or extend credit. This information is provided independent of any lending, other financing or insurance transaction. This material is a compilation of outside sources and the various authors' opinions. Assumptions have been made for modeling purposes. American AgCredit does not represent that any such assumptions will reflect future events.