We've Gone Mobile!  
Online Banking customers can now download the American AgCredit Banking app from their mobile device(s).  Enjoy all the benefits of your Online Banking experience from the convenience of your phone or tablet.
The banking app takes all the conveniences of your online banking experience and puts them in the palm of your hand from any mobile device(s).  There is no additional setup or paperwork required and the app is free to download in the App Store or Google Play Store.  Please note – if you are not yet enrolled in Online Banking, you must first enroll in the Online Banking platform to utilize the Mobile App. 
 How to Get Started  
Download the American AgCredit Banking app in your App Store or Google Play Store. To locate the app, enter the keywords "American AgCredit Banking" in the search bar.
Once you have located the correct American AgCredit Banking app, please download and open the app on your device.

You will be prompted to enter your existing Online Banking username and password. If you have any trouble remembering your password, you can select "Forgot Password?" to send password reset instructions to your email.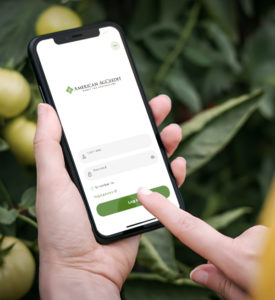 We expect that you will have a positive experience as you begin using the app and exploring its functionality. The app makes it easy to view your transaction history, account information and statements, as well as transfer funds anywhere, anytime.  You can switch between mobile and desktop experiences, as both are powered by the same platform and data.  
 Share Your Feedback  
If you have questions, comments or run into an issue, please contact our Customer Service team at customerservice@agloan.com  or call 1-800-800-4865 for direct assistance.  
Have Questions?
Visit our Frequently Asked Questions page here.